Published: September 20, 2013
NORTHBOROUGH, MA | Perimeter Brand Packaging has launched new wipes packaging solutions designed to stand out at retail and provide consumers with appealing on-the-go solutions.
"After surveying the current wipes solutions in-market and finding a lack of differentiation in wipes packaging, we came up with these three unique solutions," said Steve Callahan, president of Perimeter Brand Packaging. "We aimed to solve some major problems that we learned consumers were facing in their current wipes experience as well as improving the on-shelf presence at retail."
The Standup package is a wipes dispenser that independently stands up, eliminating the need for secondary packaging. The off-center dispenser offers an easier way for the consumer to pull out the wipes. In a size and configuration that's easier to store, Standup is a flexible pouch with a polypropylene fitment on one end.

Webster is a dual-dispensing, clutch-style wet wipes packaging solution. It can be used to double the wipes capacity of a current packaging offering, or can be used to provide consumers with two different types of wipes that may be frequently used together—like a facial skin care wipe and an eye makeup remover wipe. The solution is made from flexible material with a polypropylene fitment that allows the product to stand up on-shelf, also eliminating the need for secondary packaging.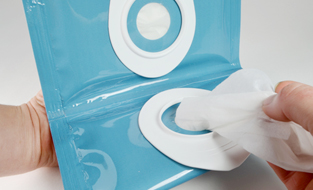 Standup and Webster are the first two products to be released under the company's newest platform, called Fusion. The Fusion technology platform combines flexible and rigid packaging together to offer an improved consumer experience.
"There's no denying that pouches and flexible packaging is growing and where a significant portion of the packaging industry is headed," said Callahan. "But there are features flexible packaging alone can't provide to the consumer, like easy pouring, improved opening and closing and delivering a better seal. Our Fusion strategy and packaging roadmap is focused on providing solutions that deliver a better way."
This email address is being protected from spambots. You need JavaScript enabled to view it.