Published: February 19, 2009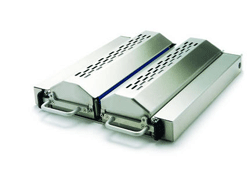 India can seem contradictory; on one hand the country seems unchanged, villagers still till the fields, and yet the rate of modernization in business, retail, printing, and packaging are moving at a pace.
A burgeoning and more prosperous middle class, the growth of a Western phenomenon—the shopping mall—and an expansion of industrial and commercial demand have all provided a greater need for high quality printed products. For many printers, this has resulted in a need to invest in press and other technologies that enable them to compete with their domestic competitors and serve international markets.
One such company, Regal Creative, a leading label converter based in New Delhi, has installed four Teknek Mini-Web Cleaners (MWC) to process products more efficiently and to higher quality standards. Designed to meet ultra-narrow web cleaning requirements, the MWC is suitable for a wide range of roll-to-roll applications such as label printing, taper automated bonding, flexible circuit production, and in-mold decoration.
Mr. Bajaj of Regal Creative says, "We initially installed one MWC on a printing press. However, when we came to evaluate the benefits after just six months of operation, we thought it prudent to order a further three units, one for each of the other presses."
The Teknek contact cleaning concept involves the use of an elastomer roller that runs in contact with the web, penetrating the boundary air layer that noncontact methods of cleaning cannot reach. The elastomer roller on the MWC is said to remove all particles down to micron size. Contaminants—whether hair, skin, paint flakes, ink debris, etc.—are then immediately transferred to a precision-engineered reverse-wound pre-sheeted adhesive roller, where they become permanently trapped.
When the adhesive sheet becomes saturated with contaminants, this outer sheet is simply removed, exposing the next underlying sheet ready for use. Powerful anti-static bars can be incorporated within the system to ensure dust is not re-attracted.

Another narrow web system option is the NWP (Narrow Web Platform) which is available in a variety of styles, either configurable for single cantilevered machines or double sided machines and in five length variations.
"We work for a large number of high-profile multinational customers who demand the highest quality standards and find that the MWC helps us achieve this by eliminating any contamination that could affect final print quality," says Bajaj.
Converter Information:
Regal Creative Private Ltd.
C-6/6234, Vasant Kunj
New Delhi, Delhi, India 110 070
Supplier Information:
Teknek Ltd.