Published: July 01, 2008, By By Edward Boyle, Contributing Editor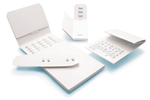 The US Chamber of Commerce reports product counterfeiting costs US companies nearly $250 billion a year in lost revenue. While the problem is far too vast and complex to be solved solely through the enhanced security provided by labels and packaging, a number of suppliers have developed specialty papers that provide printers, converters, and end-users with one more weapon to fight their ongoing battle.
Security features incorporated into printed products are available in three classifications — overt, covert, and forensic — each with varying levels of sophistication. Overt methods, like holograms and watermarks, are easily visible to the naked eye. Covert solutions, such as encrypted threads, are not readily apparent but can be seen easily with the proper equipment, such as an ultraviolet (UV) light or special marking pens. Forensic solutions can be detected only in a lab using sophisticated equipment.
Security papers typically incorporate one or more features that can identify the product as original or demonstrate tamper evidence when fraud is attempted. For example, some packaging incorporates holograms that will be destroyed if they are removed, thereby alerting the retailer and the consumer to potential counterfeiting. Others are packaged in paperboard with embedded filaments that indicate authenticity. Whatever the problems — and there are many — converters will find a range of security papers designed to address them.
Targeted Markets, Unique Demands
"At this point everyone should be concerned about [product security], because it is a huge problem," says Jacquie Wells, marketing and communications manager for KURZ Transfer Products, a manufacturer of hot stamping foils and optically variable devices (OVDs) used in security applications. "It creates loss of revenue; it can bankrupt a company. There is no one industry that is safe from any counterfeiting."
Yet some markets are more susceptible to counterfeiting and brand identity theft than others. Chief among them are pharmaceuticals, tobacco, clothing, and computer software. As such, paper suppliers have developed specialty papers specifically to meet the needs of these "targeted" industries, all of which have unique demands.
MeadWestvaco (MWV), for example, with $6.59 billion in annual sales in more than 100 countries, has developed a series of security substrates for a number of high-volume markets that are particularly susceptible to counterfeiting and product tampering. "Prescription drug packaging is a booming business," explains Michael Stuckey, marketing director, MWV Packaging Resources Group, who notes that certain segments of the market will likely grow at a double-digit pace. "As boomers start retiring, the importance of 'dose pack' compliance packaging [which compartmentalizes pills for daily use] is going to grow at a very fast rate."
MWV's Printkote Endurance, for example, is a solid bleached sulfate white paperboard that is tear-resistant, coated, and heat-sealable for child-resistant, senior-friendly pharmaceutical blister card packs. It reportedly heat seals faster than conventional coatings and seals to a range of blister foils and films, including Honeywell's Aclar, a barrier film increasingly used in pharmaceutical packaging, according to the company.
Blowing Smoke
The multi-billion-dollar tobacco industry, in particular, is highly susceptible to counterfeiting, prompting companies like MWV to research how board technologies can assure retailers and consumers that products are authentic. And the problem is rampant. For example, a report by the Canadian Tobacco Mfg. Council estimated that 22% of cigarettes sold in Canada were counterfeit.
"There's a lot of revenue in the tobacco industry, so they've attracted a very sophisticated type of counterfeiter that has resources themselves," explains Andrej Vlahcevic, marketing director, MWV Packaging Resources Group. "The problem is worldwide; the problem is huge. The people who are doing this are very sophisticated, and they're using sophisticated equipment, so it's not easy to solve. But there are a number of things that the industry as a whole — the converters and printers, the paperboard manufacturers, and the tobacco companies — have been looking at."
For example, Vlahcevic notes that the company can enhance the materials used in its tobacco packaging, much like US currency, making it difficult for counterfeiters to duplicate because the equipment necessary to do so is expensive. MWV primarily uses paperboard for its tobacco packaging, to which clearly visible special fibers can be added. However, the company does use box-grade plastic for some limited promotional packaging, and MWV says the cost of this substrate can be a counterfeit deterrent in itself. However, Vlahcevic says, "given time, they're going to figure out a way to replicate it, at least to the point of accuracy so that the consumer can't tell the difference without being educated."
To protect RFID-enabled credentials from unauthorized access, Chase Corp. has developed Paper Tyger Defender, a laminated paper with an inner security barrier.To help combat that on the paperboard side, MWV developed its Printkote Advantage Tobacco product, which has a brilliant, blue-white styling with improved brightness that is achieved without using Optical Brightening Agents (OBA). Achieving a very high brightness without the use of OBAs is much more difficult and expensive to replicate, according to MWV. Consequently, it can be used as one method to combat and detect counterfeit products, while at the same time providing a superior look and feel.
This results in a high-style finish and excellent fade resistance for super-premium brands — with no loss in production or structural performance. It provides outstanding ink holdout for sharp graphics and faster drying time, side-to-side uniformity, and sheet cleanliness, which can help improve productivity and performance of packaging runs for improved efficiencies, reduced waste, and higher profits to converters and tobacco manufacturers, according to the company.
"It's known not only for its general esthetics, but also for its runnability," says Vlahcevic. "It's very consistent to specifications, so printers and packagers can just set their machines and run large runs at the highest possible speeds, which is exactly what the tobacco companies are looking for because of the volumes they do."
Identity Protection
Chase Corp., a global manufacturer of tapes, laminates, sealants, and coatings, last year introduced Paper Tyger Defender, a laminated paper with an inner security barrier that provides privacy protection by shielding smart cards and RFID-enabled credentials from unauthorized access. Worldwide financial institutions and government agencies, as well as credit card companies and issuing banks, already are using Defender sleeves, inserts, and envelopes to protect contactless cardholder privacy, says Mark T. Weibel Jr., national segment manager for PaperTyger.
PaperTyger provides the durability of synthetic products but with the significant printing and converting advantages of real paper. This durable product is suitable for digital, laser, and conventional printers. End-uses include envelopes and direct mailers, ID cards, maps, labels, archival documents, menus, tags, book covers, tickets, file folders, CD insert sleeves, horticulture tags, licenses, posters, certificates, ream and box wrap, temporary credit cards, and more.
Weibel says the specialty paper is ideally suited for security applications because it looks just like standard paper. Yet, the combination of durable paper laminates, films, and/or foils acts as the perfect barrier to protect "smart cards" and their RFID-encoded information from identity theft.
He notes that if you put the card in a sleeve or an envelope, or even attach it to an 8½ × 11-in. piece of Defender, that card cannot be read, "so your personal identity is protected."
He adds, "Even the US Postal System just did a mailing about identification protection and identification theft. Our industry is really starting to acknowledge that the threat from stealing identity is very significant."
Contributing editor Edward Boyle, based in Reading, PA, has covered the converting industry for more than 23 years. Contact him at EJB Communications; 610-670-4680; This email address is being protected from spambots. You need JavaScript enabled to view it..
Supplier Infot