Published: December 01, 2007
Not all die-cutting firms are created equal. Problem-solver Cowlitz Container comes through in a crisis.
The distress phone calls received at Cowlitz Container & Die Cutting often come late in the production process, following a setback or near-disaster. The voices at the end of the line sound anxious and apologetic. They invariably ask the same question: "I know we're calling you late in the process, but can you help us out of a jam?"
When developing containers essential to the delivery of sensitive products, packaging firms nationwide are discovering the importance of hiring professionals whose expertise puts them a cut above all competitors. Now some of the largest integrated packaging firms are outsourcing unique projects to specialty firms whose plant flexibility and engineering savvy make them a sure bet for getting the job done right. To understand the reason for this shift, consider the dilemma faced by Kodak's Health Imaging Div. when creating a liner for its reusable medical X-ray film cartridges.
Kodak had contracted a die-cutting firm to produce flat, high-density polyethylene (PE) liners to protect film that lies in X-ray trays. But 15%-20% of the liners received were defective, due to the presence of hair particles, dust, and scrap material that had accumulated during the cut.
Ralph L. Clark, VP of Cowlitz Container, remembers receiving Kodak's call for help. "When they came to us, they came with a video of what they'd been experiencing with other suppliers. Either what they wanted wasn't communicated well, or the company they'd hired simply didn't have the experience to supply it," he says. "The first thing they asked of us was: 'What can you do to help us eliminate these problems? What can you do to make certain it doesn't happen?'"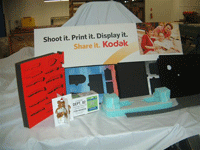 A Team Effort
Cowlitz Container has been providing services since 1971 that include laminating, sheeting, and cutting presentation folders that can be folded and glued at its 22,000-sq-ft manufacturing facility. The company utilizes equipment supplied by Standard Paper Box Machine Co. among others.
Clark says he took the same tact with Kodak that he takes with all distress calls: He gathers his staff of veteran cutters, and together they seek a solution that may include a change in methods or materials or both.
Clark's first decision was to cut the PE on a steel rule cutting die. Is this a rare method? No. Was it a radical departure from the previous firm's approach? Not necessarily. But cutting a substrate such as PE can be difficult to do in mass quantities. It also had to be clean and packed 50 to a bundle—a requirement for the Kodak project. Clark surmised the previous firm may have encountered problems simply because its die-cutter, perhaps qualified to cut gasket materials, lacked experience applying a steel rule to plastic.
Next, Clark and company designed tools and a process that would cleanly cut the flat sheet plastic liners and dispose of scrap. Once cleaned, the liners were shot with ionized air and vacuum packed. This allowed the liners to be shipped as a finished product, to be assembled with X-ray trays elsewhere. The result? Zero rejects and Cowlitz met Kodak's every deadline.
"The process that we go through, from cutting to packaging in those large bundles, is something most die-cutters can't do," says Clark. "They're not set up for it. Cleanliness is not just the function of the tool cut but the training of the people you have running the project."
Like any veteran die-cutter, Clark would prefer to have a shot at planning a project before it reaches a point of crisis. But too often prospective clients, in their rush to make delivery, don't properly assess their needs and therefore hire a die-cutter that lacks the special capabilities necessary to assure success. "A high percentage of the time they're in the middle of the project when they come to us. It denies you all the pre-design opportunity to solve the problem before it occurs," he says. 
Mind over Matter
Some firms with packaging needs may be unwitting victims of the general perception that die-cutting is nothing more than a "cookie-cutter" process. The reality is tool making is a challenging profession, a mixture of art and engineering, which belies such simplistic comparisons. And some die-cutting firms have been hurt in the past by price wars that pitted knowledge against the unrealistic expectations of the buyer.
But all that may be changing as suppliers such as Cowlitz Container make inroads with special-needs companies and even large integrated packaging firms that may outsource unique projects their high-volume setups can't accommodate. Although it may appear that the larger firm is giving away business, in fact the opposite is true.   
Clark says integrated packaging outfits come to him to solve problems they don't have time to address. For example, a huge plant that pumps out tons of brown boxes for the moving industry isn't going to shut down its operation to run a 500-pc test for a client. Nor would it necessarily be nimble enough to process short, small volume and quick runs. But Cowlitz is engineered to be flexible. So Cowlitz runs the quirky project, and the larger firm takes credit for making its client happy. A happy client is a loyal client.
"It keeps their client in a single-source mindset; they'll keep coming back," Clark says. "We're seeing a lot more requests for quotations from larger firms."
Another key to success, Clark says, is material utilization. A veteran die-cutter may save its client large sums of money by delivering an order using less material than expected. For example, Clark said his company cuts a lot of chipboard, often utilizing T-shaped blanks.
By drawing on a combination of expert tool design and experience setting up the equipment, Cowlitz recently cut material usage by 28%. "It gets their attention when we get in there and care about the end result," he says.
Clark says he relishes the role of problem solver. Even after decades of experience, he believes each "crisis" is an opportunity to learn more about his profession. "I especially enjoy looking back over a project and analyzing what went well and what things should be looked at for next time," he says. "Of course it's nice to get paid for your efforts. But our focus is more on customer satisfaction. That's the real reward."
Douglas Glenn Clark honed his writing skills as an editor and reporter for daily newspapers, including The Los Angeles Daily News. He has provided stories for magazines, financial market groups, and trade publications.
Converter Info
Cowlitz Container & Die Cutting Inc. | 2228 Talley Way, Kelso, WA 98626 | 360-577-8748 | 800-318-8748
Supplier Info: Standard Paper Box Machine Co.