Published: November 08, 2006, By Edited by Deborah Donberg, Assoc. Managing Editor
Covering the Full Spectrum of Industry News, Events & Activities
Getting Metallized Film Barrier Just Right

What exactly is the correct barrier structure for a given product? That was the question facing Dr. Wolfgang Decker, general manager at Vast Films, Darlington, PA, in producing metallized films. Some products require an oxygen-free barrier, others need a barrier that is moisture-free, others need a controlled transmission rate of oxygen, moisture, or both.

To get it just right, Decker turns to testing equipment from PBI-Dansensor, including the Lyssy OPT 5000 oxygen tester and the L-80 moisture vapor permeability tester.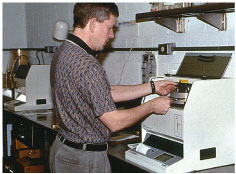 Says Decker, "Unlike previous test methods in which multiple samples were required, PBI-Dansensor equipment permits us to test the very same sample for oxygen transmission and then again for water vapor transmission so that we can make a direct comparison of the exact same sample. The film sheet may contain a non-visible defect, so samples taken from different parts of the sheet might not be consistent—and that would defeat a direct comparison."

Decker adds the results are 20%–30% faster on the moisture tester because it doesn't require equalization. "And the testing range is much larger—higher in permeability for higher sensitivity testing. We also do low-barrier tests, especially for product items in which we seek films with high permeability of oxygen. Other equipment offered range limitations that are no problem to the PBI-Dansensor equipment."

SUPPLIER INFO:

PBI-Dansensor—PFFC-ASAP 310. pbi-dansensor.us
---
---
NA Strong in Packaging Machinery
ARLINGTON, VA—North American packaging machinery manufacturers led the world in shipments of packaging equipment for the 10th consecutive year, reports a new study from the Confederation of Packaging Machinery Assns. (COPAMA). In 2004, the most recent year for which figures are available, North America maintained its number one ranking with sales totaling US$6.413 billion.
"North America's global strength in packaging machinery shipments is attributed to the high reliability, flexibility, and safety of equipment built by North American manufacturers, as well as the total cost of operation and reliable service programs…," says Charles D. Yuska, president of the Packaging Machinery Mfrs. Inst., a member of COPAMA.

For more information visit pmmi.org.
---
Packaging Keeps Weapons Safe
CARROLLTON, TX—The JDAM precision guided weapons used in the recent joint military attack on Iraqi terrorist Abu Musab al-Zarqawi and others were shielded by a protective packaging kit from Protective Packaging Corp. (PPC). For this product, PPC has been awarded "Preferred Supplier Certification" by the Boeing Co. The packaging system provides long-term protection from corrosion, UV, odors, static electricity, and other hazards that could compromise the "smart" bomb's functionality. The system is designed to protect the weapon during storage for up to 20 years regardless of environment.

PPC underwent vigorous testing and process improvement training by a Boeing team to obtain the certification.
---
Biodegradables Info Offered
DUBLIN, IRELAND—A 2006 report on biodegradable polymers indicates costs have come down over the last three years, and at the same time, standard thermoplastic prices have increased. Some classes of biodegradable polymers are price-competitive with polymers such as PET. The report, from Research and Markets, says the biodegradable polymers industry has established an agreed framework for testing and certification, and there is growing political pressure in developed countries to reduce packaging waste and develop a composting infrastructure. Biodegradable polymer producers have invested in product and process improvements, and consumers and brand owners are beginning to recognize the benefits of sustainable ("green") packaging.

For more information visit researchandmarkets.com.
---
Open House at Bobst
ROSELAND, NJ—Bobst Group USA celebrated innovation at its Direction '06 Open House September 21–26. The place was the Bobst Demonstration and Training Center in Roseland, and the purpose was to provide insight on the future of folding carton and commercial printing. On the floor were nine fully operational lines demonstrating how to expand capabilities and open new markets. Included were many of Bobst's latest innovations.
---
Two Packaging Transactions
CHICAGO, IL—Two recent industry transactions have been reported by Mesirow Financial: The Packaging Group, Toronto, ON, Canada, was sold to Cello-Foil Products, a portfolio company of Sun Capital Partners; and Flexia Corp., Brantford, ON, Canada, was acquired by Intertape Polymer Group. Mesirow served as exclusive financial advisor on both transactions.
---
New Name, New Synergies
DALLAS, TX—Accel Graphic Systems, a Pamarco Technologies co., and Chicago Manifold Products, Wheeling, IL, now are Pamarco Global Graphics. Pamarco Global Graphics CEO Terry Ford says, "We are pleased to announce this exciting name change to reinforce the synergies of these great companies made possible by the J.P. Cotts buyout. We are now one company with one focus."
---
ICS, Quato in Agreement
NEW YORK, NY—Integrated Color Solutions (ICS) and Quatographic Technology (Quato), Braunschweig, Germany, have signed an agreement allowing Quato to use ICS's patented L technology in conjunction with Quato's iColor Display 2.0 calibration software.

J.R. Kuhnen-Burger, VP of marketing and development at Quato, says, "ICS's reputation in remote proofing technologies makes it a prefect companion to [our] long-term experience in developing hardware calibrated displays and calibration solutions...."
---
Ampac Agreement Announced
CINCINNATI, OH—Ampac Packaging has entered into an agreement with Prudential Capital Group, Chicago, IL, and Falcon Investment Advisors, Boston, MA, to recapitalize the company for an undisclosed amount. The influx of new capital will enable Ampac to continue to pursue strategic and organic growth in the flexible packaging sector.

John Baumann will remain president and CEO, and he and other key management executives will retain ownership interest, along with Prudential and Falcon.

Dianna Carr, VP of the Prudential Capital Group, says, "Our investment strategy has been to focus on middle-market companies with consistent growth stories and solid management teams. Ampac is a great fit—it has done an excellent job of growing the company over the last several years, and has a terrific management team that will continue to lead the company to further success and growth in the future.
---
Recycled Paperboard a Winner
WASHINGTON, DC—The 100% Recycled Paperboard Alliance reports its product was again a big part of the winning entries in the 56th Annual Packaging Competition of the National Paperbox Assn. (NPA). It was used in two of the three best in show winners, 31 excellence winners, and eight gold winners.

Among the winners using 100% recycled paperboard was the Baccarat champagne box, which took honors as rigid box best in show for Paul T. Freund Corp., and the Black Apron coffee package for Starbucks, entered by Utah Paperbox Co. and declared best of show in the combination category.

For more on the NPA awards, click here.
---
---
PEOPLE & PLACES
Montalvo Corp., Gorham, ME, names Ron Strout customer service coordinator.

Martin Clark is promoted to director of marketing and business development for FKI Logistex Mfg. Systems North America, St. Louis, MO.

Lamart Corp., Clifton, NJ, appoints Gene Jung senior R&D engineer.

Aquaflex, Duncansville, PA, hires Michael Schmidt as senior sales executive for the northeast US and parts of eastern Canada.

Patricia Anderson will sell presses for Nilpeter USA, Cincinnati, OH, as midwest region manager.

Environmental Inks and Coatings, Morganton, NC, names Mark den Boer Chicago regional manager.

Maxcess, Oklahoma City, OK, reports Steve Chapman will serve as representative for North and South Carolina.

Corotec Corp., Nashville, TN, names Robert E. Brown regional sales manager for Tennessee, Kentucky, Mississippi, Alabama, and Arkansas.

Dave Southall joins Max Daetwyler Corp., Huntersville, NC, as regional sales manager for pressroom products. Based in Richmond, VA, he will cover the mid-Atlantic region.

KBA North America, Williston, VT, names Carl Ferolie district sales manager for Arizona,Colorado, New Mexico, Utah, Wyoming, and El Paso, TX.

At Harper Corp., Charlotte, NC, Pat Brzyski is promoted to customer service/sales manager.

Applied Mfg. Technologies, Orion, MI, appoints Joseph Campbell chief operating officer.

Julie Huber joins American Maplan Corp., McPherson, KS, as sales associate for the Screw and Barrel products area.
---