Published: January 31, 2006, By Elizabeth Park, AWA Alexander Watson Assoc.
---
Part 1 | Part 2 | Part 3 | Part 4 | Part 5 | Part 6 | Part 7
---
To view this special report as a PDF, click the link below:
---
Graphic Arts
The wide-format graphic arts market continues to grow, not only in pressure-sensitive materials but overall. Competition from emerging technologies—particularly the screen-based options that provide changing, and sometimes moving, messages for in-store, point-of-sale use—is strong.
The face of the p-s graphic arts industry certainly has changed, as digital print has "come of age," and its possibilities are being realized across the globe. Digital print has enlivened the graphic arts industry, bringing lucrative new work to converters of all kinds—whether they started as signmakers or as screen printers. In its short life, it already has achieved a 20% share of the European market alone.
There is strengthening demand for products for more technical graphic applications, involving p-s substrates such as reflective and window films, which can bring higher margins. Ongoing developments in ultraviolet ink technology are promising increased print speeds at lower cost also.
However, the p-s laminate is under real pressure in this fast-moving market. Banner applications in particular are enjoying strong growth rates, and UV flatbed print has made it possible to print directly onto rigid substrates, obviating the need for a p-s decal. In-store screens with video and text messages are replacing print altogether in some applications.
A Shift to New Media
This is a challenging time for the p-s laminators, and it also is driving "traditional" sign and point-of-sale converters to look at new media and new technologies to retain a competitive edge. The biggest challenge for everyone concerned is to keep abreast (if not ahead) of the opportunities; to understand how, at advertising agency and end-user levels, the media choices are made today; and to develop a keen eye for the various influencers that are driving fashion—and the commercial graphics market.

These shifting sands certainly will change the profile of the market for p-s films. North America and Western Europe dominate the world stage, accounting for about 29% and 25% of the total usage respectively.
Monomeric calendered vinyl film is the most widely used face material in North America—a commodity product with limited margin opportunities—followed by polymeric calendered vinyl and, in 20% of applications, the high-margin cast vinyls. The threat to low-cost monomeric films from non-adhesive substrates—banner materials in particular—is strong, but the longer-life polymeric and cast films still have distinct growth opportunities, particularly in vehicle graphics applications, including the currently fashionable all-over vehicle "wraps."
The major laminate manufacturers in North America and Western Europe—3M, Avery Dennison Graphics Div., and MACtac—continue to dominate the field, and all are responding to the market's changing preferences, though smaller players are beginning to occupy noticeable positions in specific market segments.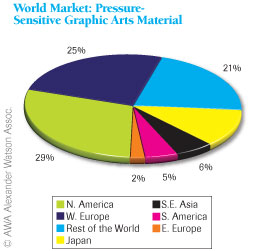 On the machinery front, there is an increasing presence of suppliers from the Far East that is opening up new geographical markets as well as driving down the cost of digital presses and competing at some levels with the leading North American and European OEMs.
As the boundaries among the different media increasingly become blurred, all players in the supply chain—including laminators, machinery manufacturers, ink manufacturers, distributors, and converters—need to be alert to the needs of their customers and aware of their supply chain partners' capabilities. The transfer of market/product/technology intelligence between supply chain partners is critical to a continuing major share in the commercial graphics market for p-s films.
---
---
Elizabeth Park has 20+ years of experience in coating and laminating; she joined AWA Alexander Watson Assoc. as a senior consultant in 2004. A graduate in chemistry, she began her career with Smith & McLaurin as a senior chemist focused on the development of imaging coatings. In 1997 she joined Avery Dennison Roll Materials Europe and served as director of business development and growth initiatives. Contact her at This email address is being protected from spambots. You need JavaScript enabled to view it..';document.getElementById('cloak598620505ad969d9adb2bf4197db6be5').innerHTML += ''+addy_text598620505ad969d9adb2bf4197db6be5+'<\/a>';
---
AWA publishes regular market studies on the p-s graphic arts market in both North America and Europe and organizes an annual conference on the topic.
---
Part 1 | Part 2 | Part 3 | Part 4 | Part 5 | Part 6 | Part 7
---