Published: February 17, 2004, By pffc-online.com
PRESS RELEASE
LECCO, ITALY—OMET announces its participation at the upcoming Drupa Print Media Trade Fair, Düsseldorf, Germany. According to the Italian press and converting equipment manufacturer, it will be showcasing its in-line narrow-web rotary machines as well as machines for the production of tissue napkins.
Things for OMET prior to the print industry's mega fair seem to be going well. According to the OEM, it has had "numerous sale successes...all over the [world], with 5 installations in the last few weeks."
Adds OMET, "The rotary machine Varyflex [to be] showed at the [Drupa] stand is no more a novelty—it qualifies as one of the major attractions of the fair for printers and converters of the label and packaging industry."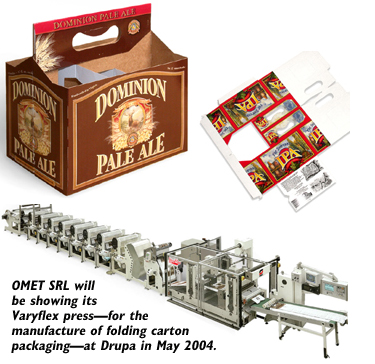 According to the manufacturer, the Varyflex has a modular-configuration integrated line, outfitted with equipment for interchangeable printing methods—flexographic, silk-screen, rotogravure, hot foil, cold foil, etc. "The [Varyflex also provides] printers the capability of printing infinitely variable formats—from 12 to 33 inches—with the greatest precision. In fact," states OMET, "it was the first machine completely electronically operated, without gears on the printing plate cylinder (gearless & shaftless system technology); moreover it was the first narrow-web machine to use sleeve technology, with the printing plates directly mounted on light and transportable sleeves, for extremely rapid job and format changes."
OMET also manufactures paper napkin production machinery, adding it "is a world leader in the production of paper napkin machines, with hundreds of machines installed all over the countries from 1963 until today." The OEM says its TV 503—a model that the company says is among the most sold in the last few years (for the production of neutral or printed paper napkins with one or more colors)—will be demonstrated at Drupa with what OMET is calling a "preview novelty": an embossing unit that OMET says is able "to realize a 'three-ply' product with a considerable increase in napkin consistency, thus accentuating its softness and its absorbing power."
More information about its converting machinery is available from OMET. Email the OEM for information at This email address is being protected from spambots. You need JavaScript enabled to view it.. Visit OMET at omet.it.
---