Published: September 17, 2004, By pffc-online.com
PRESS RELEASE
SAINT PAUL, MN, USA—Rayven Inc. reports it recently installed a new 72-in. coating line in its St. Paul facility. According to the provider of laminating, coating, and converting services, the new line's design is proprietary but utilizes a control system manufactured by Control Assemblies Co..
"The new line is designed to run 800 feet per minute, and its wide width and high speed allow [us] to producer larger volumes of release liner economically — meaning customers benefit from increased output without sacrificing quality," states Rayven.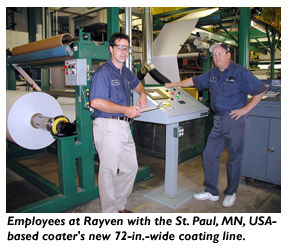 Says Rayven president Joe Heinemann, "This major capital investment underscores Rayven's continued dedication to meeting the diverse needs of our customers." Heinemann adds the coater completed the installation last May.
Coating Line Features
According to Rayven, its new line features:
Rayven says the new line is designed to coat film and paper of various weights, including thin films downs to 48 gauge (12 micron); the new line will be running: polyester, polypropylene (PP); BOPP; PE (polyethylene); HDPE; LDPE; styrene, paper, and resin-coated paper.
Learn more about Rayven at rayven.com.
---