Published: August 06, 2004, By pffc-online.com
PRESS RELEASE
APPLETON, WI, USA—Appleton says it plans to expand its presence at Labelexpo Americas 2004. The company reports it will display RFID (radio frequency identification), thermal, security, and digital products, and for the first time, it be showing its inkjet/digital papers and custom product development capabilities in coating and base stock paper manufacturing in its booth, #2026.
Appleton reports its new SmartStrate label stock, "the first label stock specifically engineered for RFID smart labels," will make its debut at the venue in Rosemont, near Chicago's O'Hare Airport.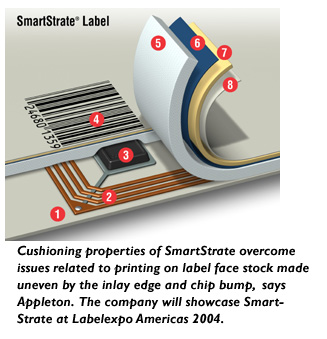 "The product is designed to overcome chip inlay failures associated with mechanical damage and electrostatic discharge at multiple points in the value chain —from converting, printing, and shipping to application and end use," says the manufacturer.
Also at Labelexpo Americas, Appleton's Vince Reese will address the status of RFID in his September 15 (8:30-10 am) presentation entitled: "What Is the Current State and Evolution of RFID?" Reese will discuss the critical role label media selection can play in reducing costs and improving reliability for RFID applications as well as forecast future RFID applications and markets.
Learn more about Appleton at appletonideas.com.
---