Published: July 19, 2004, By pffc-online.com
PRESS RELEASE
ST. LOUIS, MO, USA—Mark Andy and its Comco division will be showcasing its expanded range of narrow web flexo presses for the label and packaging markets at Labelexpo Americas 2004, says the OEM.
According to the company, four machines, targeting different market sectors, will be running throughout the show, "offering visitors an unprecedented opportunity to see what this full range supplier now has to offer."
Global Launch—The NEW XP5000 with The Power of Servo
Mark Andy reports it will launch its brand new press model, the XP5000. "It's the generation of the 'Productivity' Platform, following in the footsteps of its brother press, the LP3000," explains the press manufacturer.
"The XP5000 is 'eXpanded Productivity' and is designed to surpass the expectations of today's press operators and business owners," adds Mark Andy. "The Power of Servo, [with its] state-of-the-art, servo-driven print, and die-cut stations, the XP5000 has fully electronic job-handling with Mark Andy exclusive program algorithms. This means dramatic savings of set-up waste can be achieved by the XP5000's pre-registration function in both print and die stations. Fully electronic registration control, operator interfaces at each station, along with immediate operator production feedback and 'First Response' remote diagnostics maximizes productivity, up-time, and provides more full-time production running capabilities than any other press on the market."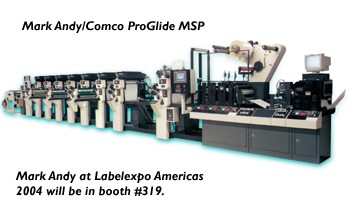 The Comco ProGlide MSP with the Power of Servo
According to Mark Andy, Comco's ProGlide MSP model will showcase its quality and versatility at Labelexpo Americas this September. "For converters looking to produce finished packaging in one pass on materials from 25-micron unsupported film to 24 pt. (600-micron) carton board, the Comco ProGlide MSP, now available with servo drive, has no equal," states Mark Andy's release about the trade event. "Capable of 230 m/min with infinite electronic register control, the ProGlide uses Comco's shuttle deck system for fast make-ready of the print units between jobs."
Digital Printing
The "revolutionary" Mark Andy DT2200 Digital Printing and Converting System is now available, says the manufacturer. "The DT Series inkjet-printing module, developed exclusively with Dotrix (now a division of Agfa) integrates directly into a 13-in. Mark Andy 2200-flexo press, which incorporates standard in-line, single pass flexo printing and converting operations. The four-color system is capable of printing high-end graphics with 100 percent variable information and 100 percent coverage at 25m/min."
Continues the OEM, "The technology that combines full width 300-dpi resolution with 8 levels of grayscale and UV curable ink is an industry exclusive. The DT2200 fits and works in the traditional work flow model of today's converter. The DT Series provides a level of quality that matches today's print buyer's increasing demands. The DT laser finishing module, developed with LasX Industries, makes it possible to produce short run labels most efficiently and quickly."
ETL and RFID
Longford International, a valued partner of Mark Andy, is a designer and developer of machinery for high-speed ON-Press manufacturing of Extended Text Labels (ETL) and RFID (radio frequency identification) tags. Mark Andy says at its Labelexpo Americas' booth, Longford will be displaying two systems on Mark Andy's LP3000 13-in. press—the OS700 Surge Feeder for Extended Text Labels (ETL) and the NEW Longford RFID100 TAG Affixing Feeder.
Flexo Ink Demos
Mark Andy reports it also will be showing the newest ink resin technology, Flexcure by Ashland Chemical Inc.. "With the newest ink resin chemistry, the odor of UV flexo printing has virtually been removed from UV curable varnishes," explains the company. "Flexcure is only the beginning of a new future for UV curing, with its eyes on food packaging and higher productivity!"
Finally, a Mark Andy 830, central impression press, will be featured in the American Water Graphics booth (#3409). The press will be operating live with AWG inks.
Learn more about Mark Andy at markandy.com.
---