Published: July 06, 2004, By pffc-online.com
PRESS RELEASE
VIENNA, AUSTRIA—Battenfeld Gloucester (a subsidiary of SMS Plastics Technology) will showcase its "expertise" in machinery and dies for blown film extrusion at K 2004 this fall.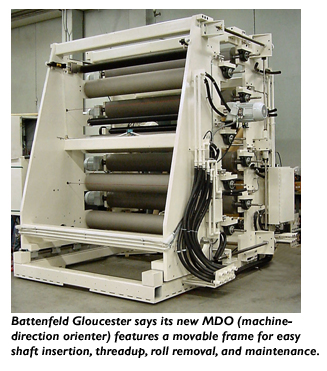 According to the OEM, among its offerings for the converting industry will be the machine-direction orientation (MDO) unit. "Machine-direction orientation provides enhancements to polyethylene (PE) film," explains Battenfeld. "These include downgauging with few or no trade-offs in barrier or strength; economy (from source reduction/downgauging); and the ability to create microporous structures that can be used in 'breatheable' and other specialty films. MDO gives processors a powerful means of differentiating their films from competitors', a plus in commodity and special grades," adds the manufacturer.
A recent development from Battenfeld Gloucester, the MDO unit, initially, is being used to orient (i.e., pre-stretch) coextruded linear low-density or metallocene polyethylene stretch film. "[We're] evaluating different applications for the process," explains Battenfeld, "and will discuss these and other end-uses with processors at K 2004." The OEM's release about its new MDO unit states:
A typical stretch film run on the MDO would be a three-layer web with an outside cling layer, a core strength layer, and a non-cling inside layer. Web widths of 70.5 inches (1971 mm) can be accommodated on the Battenfeld machine.

The unit, designed for integration with a blown film line, has draw ratios of 3:1 and 4:1. Rather than being wound after extrusion, film is fed into the MDO unit, pre-heated, and run through drawing rolls for orientation. The set of rollers that do the orientation revolve at different speeds to each other based on draw ratio. A 4:1 ratio means the first roller turns at a rate one-fourth that of the second, which is orienting the film. The web is then fed through annealing and cooling rolls that set the film and relieve stress. The process increases the film to four or five times its original length.
Battenfeld has developed special techniques to maintain precise control of MDO film processing from preheating through drawing, annealing, and cooling. Since the unit is comprised of a series of rolls that operate at different speeds and temperatures, the ability to maintain repeatable control over the process is critical to product quality.
There are numerous features in the MDO unit that optimize processing and use. It has a movable frame that opens for easy threading, roll removal, and shaft insertion. The frame also provides ready access for maintenance. Roll pitch is adjustable, and roll surfaces are designed to improve the efficiency of each operation. Preheating, annealing, and cooling rolls have release coatings to maintain process efficiency.
Safety is a major component of the design. The unit is fully enclosed and has a variety of interlocks, pull cords, and e-stops at key points to assure safe operation. Local and remote control panels are designed as much for safety as for convenience and flexibility. A processor can specify where a local control panel is mounted—on either side or at the front of the unit— based on safety considerations and plant-floor layout.
The MDO unit has a modular design that supports expansion or changing application requirements. The assembly is mounted on isolator leveling pads, which significantly reduce vibration during operation.
9-Layer Die: For a Changing Blown Film World
Battenfeld says it has observed an increased interest in nine-layer dies for various reasons, "notably the benefits they provide in producing high-barrier films at lower cost," explains the OEM. "Having nine layers to work with means processors can take five- or seven-layer films and reduce the gauge of costly barrier materials and tielayers by adding less expensive resins to the structure. Since many of these are relatively thick films used in meat and dairy packaging or for thermoforming, the potential savings from downgauging such resins can be significant," adds Battenfeld.
The manufacturer's release about its new nine-layer Optiflow die states: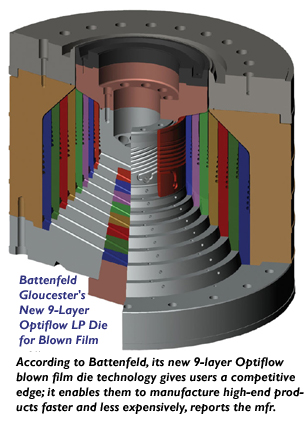 Due to its design and construction, Battenfeld's Optiflow LP die is the best and most advanced option processors have for 9-layer applications. (It is not, however, the largest blown film die Battenfeld Gloucester produces. The company has built 11-layer Optiflow LP dies.)
The most notable feature of the design is its low profile. Standing about half the size of a conventional stack die, the Optiflow die's height simplifies installation, operation, and maintenance. The die achieves its low profile through Battenfeld's special concentric mandrel design. A series of concentric mandrels, one for each layer of resin, nest within each other, substantially reducing die height and weight.
The design contributes to improved resin flow, reduced residence time, and higher film quality. After polymer is pumped into the bottom of the die, it moves in separate channels into a tapered block. Compared to a stack die, the Optiflow LP die combines resin layers for a relatively short period at the end of the flow path, thus reducing interfacial instabilities.
The die has internal engineering features that also improve resin flow. Specially-designed streamlined flow-channel inserts are used within each mandrel feedport. All flow surfaces are nickel-plated in an electroless process to resist abrasion and corrosion. (Other coating options are available.) Die components are machined from drop-forged, aircraft-grade, through-hardened alloy steel that has been uniformly stress-relieved. Components are designed to achieve even heating and maximum deflection resistance. This provides outstanding dimensional stability during processing, thus assuring a uniform flow rate and extremely precise gauge control.
The design has additional benefits that promote quality. The low height increases the distance from the die to the nip centerline, which improves cooling and increases output. Its small size also means less heat builds up in the die.
The low profile of the Optiflow die has safety and maintenance advantages. The lower die height makes bubble thread-up easy and safe. Extruder pipes enter the die at the same height, simplifying maintenance. The diameter and die gap of the Optiflow LP can be changed without changing the entire die. And the improved flow characteristics of the Optiflow LP reduce the amount of polymer left in the die at changeover, thus minimizing downtime.
The Optiflow LP also features Battenfeld Gloucester's innovative self-aligning, taper-lock die parts that permit fast assembly and disassembly at a processor's plant.
For more information about Battenfeld Gloucester and its exhibition at K 2004, visit bge.battenfeld.com.
---