Published: June 15, 2004, By pffc-online.com
PRESS RELEASE
LECCO, ITALY—Omet reports its Drupa 2004 experience was a "success." According to the Italy-based OEM, it sold a Flexy to Megaflex, a Dutch printer, as well as other equipment lines to Drupa attendees.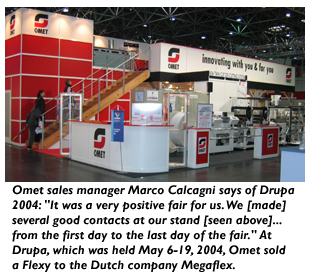 Omet says among its products showcased at the mega-print trade fair was the Twin-Cut die-cutting system. Based on magnetic cylinders, the system "allows [for] the processing of all formats with only two pairs of magnetic cylinders, without [the need] for any replacement [of these] magnetic cylinders. Omet adds the Twin-Cut die-cutting system's design enables higher speeds and simplified in-line production of labels and flexible cartons.
In addition to the Twin-Cut System, the manufacturer says the Varyflex was also a product highlighted at Drupa this year.
According to the OEM, the Varyflex has a modular-configuration integrated line, outfitted with equipment for interchangeable printing methods—flexographic, silk-screen, rotogravure, hot foil, cold foil, etc. "The [Varyflex also provides] printers the capability of printing infinitely variable formats—from 12 to 33 inches—with the greatest precision. In fact," states OMET, "it was the first machine completely electronically operated, without gears on the printing plate cylinder (gearless & shaftless system technology); moreover it was the first narrow-web machine to use sleeve technology, with the printing plates directly mounted on light and transportable sleeves, for extremely rapid job and format changes."
More information about Omet is available at omet.it.
---