Published: March 09, 2004, By pffc-online.com
PRESS RELEASE
WINDSOR, CT, USA - Pacific Northwest converter Trojan Litho says it prides itself on serving its customers fast; the Renton, WA-based operation recently installed equipment from Körber PaperLink North America to deliver cost-effective yet precise sheeting for its quick-turnaround operation.
According to Körber PaperLink, Trojan invested in a new high-speed, precision SHM 1450 dual-rotary sheeter to improve quality and to reduce waste for its paperboard packaging and commercial fine paper operations.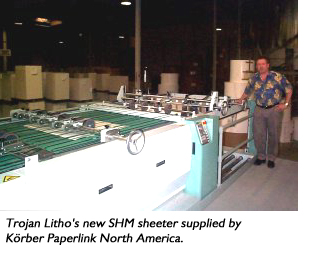 Successful Near Seattle
Trojan Litho, a packaging company in the Pacific Northwest, is uniquely able to produce and deliver custom print media messages and branding through structural design, printing, packaging, and project management, says Körber PaperLink. The converter was established in the early 1950s, and today employs 142 and operates five printing presses, six die cutters, six folding carton gluers, and an Asitrade laminator at its 200,000-sq-ft facility south of Seattle. From food, toys, and sporting equipment to pharmaceuticals, cell phones, and computer software, as well as UV high-end gloss work, the manufacturer produces packaging for diverse applications, adds Körber.
"The SHM1450 dual-rotary sheeter Trojan Litho installed was manufactured by Pemco Inc., Sheboygan, WI, and is designed to provide high-quality and efficient sheeting of a wide range of materials including paper, board, and plastics," says the OEM. "The sheeter is equipped with E.C.H. Will's proven dual-rotary cross-cutting technology," reports Körber.
Says Trojan Litho plant manager Gary Vetsch, "[We pride ourselves] on high quality with quick turnaround. Before installing our own sheeter, to ensure we had enough stock of quality paperboard and maintain our production schedule, we had to rely on multiple suppliers with different facilities. Receiving an order with defects meant unacceptable delays going to press, so we employed an expediter whose full-time job was to coordinate and expedite returns." Vetsch explains.
But last year, says Körber,Trojan investigated installing their own sheeter and unwind stand to become more competitive, gain control over product quality, and reduce costs."After a thorough review that included visiting the Pemco plant in Sheboygan, Trojan Litho chose the SHM 1450 from Körber PaperLink North America," states the manufacturer.
Flawless and Efficient
Of the installation, Vetsch notes, "I've been in this business for 27 years, and our SHM 1450 was the smoothest equipment installation I've ever experienced.... The installation went flawlessly."
Körber says Trojan operates its new SHM sheeter two of its three shifts, and now the company sheets 100% of the paperboard mediums and liners it needs. "And with zero defects," adds Vetsch. "The stock consists of about 80% SPS with a caliper range of 10 point to 30 point - "which the SHM 1450 exceeds on both ends of the scale - and 18% recycled stock," he explains.
According to Körber, the remaining two percent of Trojan's work is with high-end foil board, a unique substrate handled by few facilities. And Trojan soon will begin sheeting fine papers from roll stock for its commercial printing operations, adds the supplier.
Sums up Vetsch: "Before installing the SHM 1450, we had to play it safe and allow for waste. Now we can sheet the exact quantities we need and react quickly enough to customize our process while eliminating the high cost over-producing and maintaining multiple set-ups on press."
Visit Körber Paperlink at kpl.net.
---