Published: May 03, 2004, By pffc-online.com
PRESS RELEASE
HAMBURG, GERMANY—Dust is an inevitable consequence of converting paper and one of the most common causes of production stoppages and loss of quality in printing presses and copying equipment. Deposited on paper during the sheeting, rolling, and decurling processes, dust then infiltrates printing presses and copying equipment, where it contaminates rubber blankets, inking units, and rollers, causing poor quality and the need for frequent cleaning.
Körber PaperLink (KPL) says it's offering a solution for converters' dust problems. At Drupa 2004 the company will showcase its new Schneider XT system, which helps paper mills and converters virtually eliminate dust from webs and sheets, and in the process, adds KPL, offer their clients an additional selling point.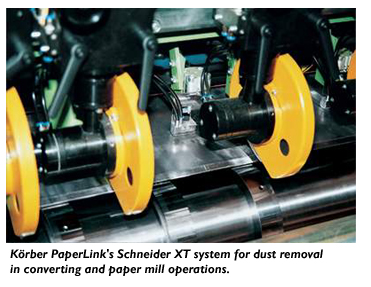 According to KPL, conventional dust-removal systems for paper converting invariably are beset with drawbacks and really don't work effectively. "Brushes and adhesive rollers damage the surface of the paper. Vacuum suction systems are largely inadequate, as the suction power is far too weak to remove dust from the paper surface at today's typical production speeds," explains the manufacturer.
In the Schneider XT system, explains KPL, dust is removed using specially directed compressed air to produce a locally limited vacuum at the surface of the paper. "It works by making no contact at all, thus sparing the surface of the paper from damage. The electrostatic and van der Waals forces that bind the dust to the paper are neutralized in the vacuum. The dust is then blown from the paper using compressed air and drawn off, into the air extraction duct of the dust removal head," adds the OEM.
According to Körber PaperLink, the new system is suitable for converting paper, tissue, cardboard, corrugated board, plastics, and all other materials capable of being printed. The dust removal heads and strips are small and lightweight, which means that they can be incorporated without any problems in new and existing systems, adds the supplier.
During Drupa, which begins this week in Düsseldorf, Germany, interested attendees can learn more about dust and dust removal solutions from Körber PaperLink expert Hans Michael Mundt. Visit hall 11, stand A62, or visit Körber PaperLink online at kpl.net.
---