Published: October 05, 2020
With the pandemic still precluding safe face-to-face gatherings of large groups, the AIMCAL R2R USA Conference/SPE FlexPackCon will take place virtually October 19-23. The virtual format adds a day to the agenda focused on sustainability, flexible packaging, battery manufacturing and flexible and printed electronics.
Pheedloop, an award-winning conference platform, makes the meeting completely interactive for attendees, exhibitors, and speakers. The agenda encompasses the full range of roll-to-roll technologies and developments in web coating and laminating, vacuum web coating, extrusion coating, web handling and winding, and adhesives and coatings and includes market overviews and plenary keynote addresses.
Day one (Monday, October 19) opens with a welcome from AIMCAL and SPE, recognition of the first inductees in the AIMCAL Hall of Honor, an R2R market overview by Corey Reardon of AWA Alexander Watson Associates, and two short courses presented from 11 a.m. to 3 p.m. ET. The first short course is "Slot Die Coating Technology" by Mark Miller of ​Coating Tech Slot Dies. The second is "How to Solve the Most Difficult Web Handling Challenges" by Neal Michal of Converting Expert LLC.
Each subsequent day begins and ends with virtual exhibits and networking. Daily sessions open with a trio of keynotes, include a brief break for virtual exhibits and networking and resume with sessions organized in four or five tracks. Attendees can create a personal schedule of technical presentations, Direct message people they know or would like to meet, and plan video meetings with any attendee, exhibitor or speaker. A Presence Tracking feature allows attendees to network in real-time with anyone who else is on the same page. Context-aware Chat areas are visible on the right side of every conference page to enable discussion of the subject being presented.
Like the live event, the exhibit hall presents new products, services and technologies. Each virtual exhibit includes a company profile and email, website and social media buttons as well as a direct message option to contact a representative. Exhibitor pages also may include access to downloadable brochures and viewable videos, which may be updated each day of the conference.
Cost of the conference is $550 for members, $670 for non-members with discounts for groups from the same company. Check the AIMCAL website, https://www.aimcal.org/2020-r2r-usa-conference.html, for the full agenda and to register.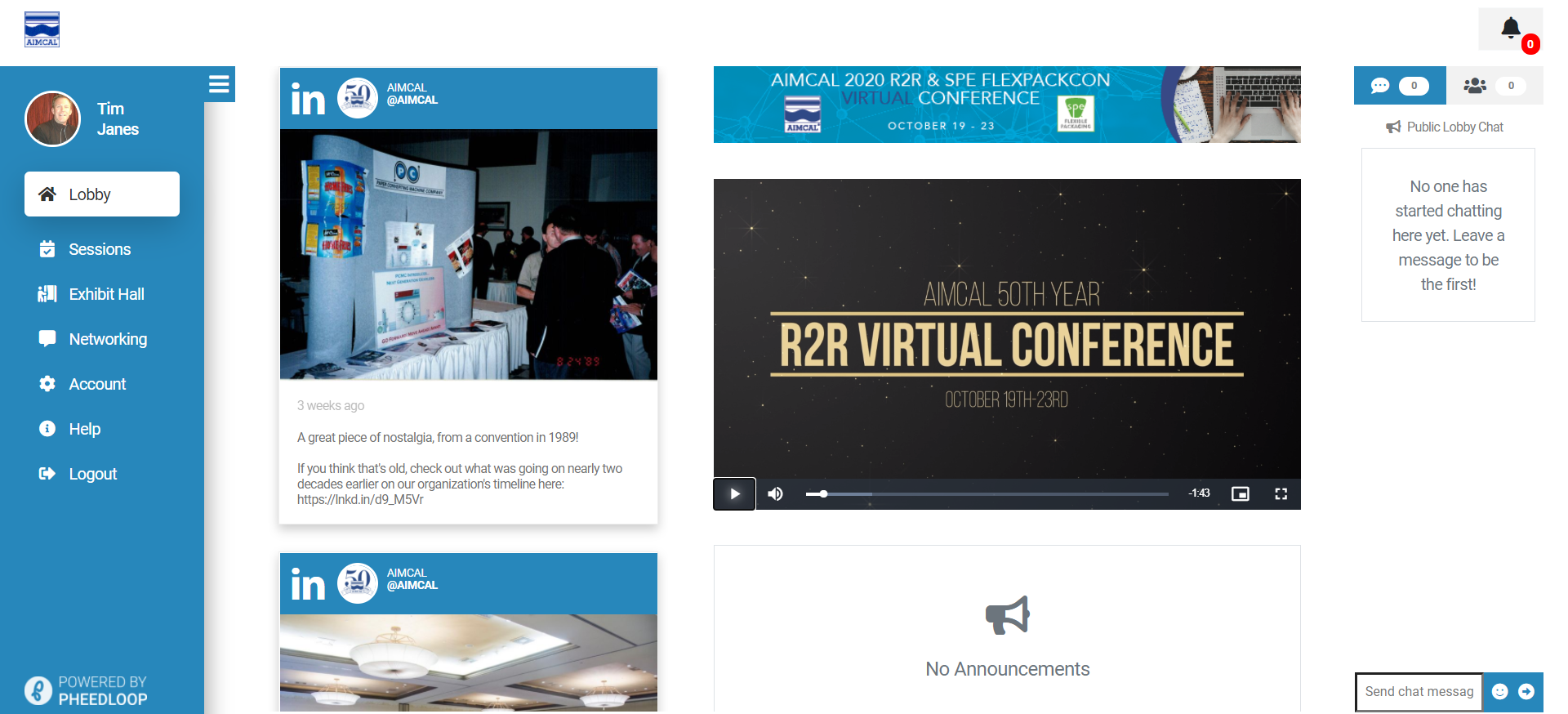 The main menu for the AIMCAL R2R USA/SPE FlexPackCon conference includes Lobby, Sessions, Exhibit Hall, Networking and Account Profile settings. On the lobby main page, attendees can view LinkedIn updates, conference video updates, and interact in the chat area. Under sessions, presentations can be viewed at the scheduled times (or on-demand for a limited time), and the agenda can be searched by track, speaker or day. Under nNetworking, attendees can message other attendees, view a list of attendees, and participate in groups. Under exhibits, attendees may search by company name, product, or service and direct message any exhibitor.
AIMCAL Launches a Hybrid Online Converting School Course
AIMCAL has expanded its curriculum of Converting School courses to combine live and recorded online instruction. The new Hybrid Online Converting School courses include live interaction with instructors. Like AIMCAL's existing in-person and online offerings, students who successfully complete a hybrid course earn a Certificate of Achievement. Students may choose between two hybrid formats:
Converting Week. Instructors present a class live online for two hours (11 a.m.-1 p.m. ET), Monday through Thursday and host a live online Q&A session on Friday.
Converting Month. Students watch recorded presentations for up to three hours each week and can participate in a live online Q&A session with the instructor(s) each Friday.
The first Converting Week live online course, "Troubleshooting & Defect Reduction on Coating Operations" is scheduled from 11 a.m. to 1 p.m. ET, November 9-13. Personnel from AIMCAL member companies receive a discounted rate. Information and registration are available at https://www.aimcal.org/hybrid-courses.html.
Join Now for AIMCAL Membership through End of 2021
All employees of organizations that join AIMCAL now, receive access to all member resources for the rest of 2020 and all of 2021. Member benefits include access to the AIMCAL TV Network, committee involvement, technical training, marketing, networking, events, and market research reports, as well as inclusion in the AIMCAL SourceBook directory and the opportunity to host live webinars.
Learn about member benefits at www.aimcal.org/membership.html or contact Tim Janes, AIMCAL member outreach director, at +1 803-948-9469 or This email address is being protected from spambots. You need JavaScript enabled to view it..