February 22, 2013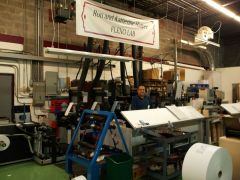 Vince DiTrolio of DiTrolio Flexographic Inst. in Broadview, IL.BROADVIEW, IL | Illinois-based educational facility DiTrolio Flexographic Institute Inc. (DFI) is requesting a Call for Letters. The institute, which offers industry-specific training seminars, is filing for a grant from the Dept. of Commerce and Economic Opportunity that will fund the training of vocational students interested in the flexo printing industry or current workers already employed at industry companies in Illinois. To receive the federal grant, DFI will need to provide Letters of Intent from industry companies committed to hiring new recruits or that can demonstrate a need for training current personnel. And if your flexo facility is not located in Illinois, VP Vincent DiTrolio says to contact him at 708-343-4334 or v_ditrolio@flexotraining.com so he can help you find funding in your state.
DiTrolio explains that federal investment will allow the industry to increase productivity within current flexo operations as well as create a skilled pool of new flexo operators that companies can recruit.
Listen to a 5-minute podcast interview with Nsenga Thompson, PFFC contributing editor, and Vincent DiTrolio, VP, DiTrolio Flexographic Institute, discussing the letter-writing campaign DFI is initiating in order to receive valuable government funding for the training of current and new flexo printers.
How To Participate
DFI believes the grant, if received, would allow for the training of 40 individuals in the next 12 months. However, to accomplish this goal, the institute projects it will need more than 40 Letters of Intent from industry companies.
DiTrolio explains that letters from printers and suppliers should effectively communicate that they are reviewing or are committed to hiring DFI graduates.
The deadline for the letters is March 15, 2013, however the availability of grants for Illinois will be on a "first come, first serve basis," which has expedited DFI's request for Letters of Intent. DiTrolio reports that there will be 12 grants awarded in Illinois and projects a maximum grant for DFI of $500,000.
Click here to download a template of the Letter of Intent. For more information, contact Vincent DiTrolio at 708-343-4334 or v_ditrolio@flexotraining.com.