Published: February 27, 2012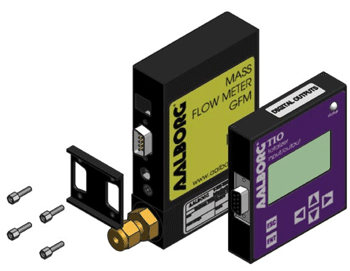 ORANGEBURG, NY | Aalborg's TIO Totalizer converts analog Mass Flow Meters and Controllers into precision digital units via RS 232 or RS 485 interfaces (multi-drop capacity up to 64 devices). Can be used as a monitor for company's GFM and AFM flow meters or as a controller with GFCs and AFCs. It also can be used with any third party devices with 0–5VDC/4–20mA inputs and outputs. No host PC presence is required for local or programmable set-point control.
The TIO's compact size is designed for wall, panel, field or unit mount applications. It is easily mounted to a GFM or GFC by unscrewing the unit's D-connector and attaching the TIO. A bracket and screws are provided in the mounting kit.
Features include batch control; free configuration and monitoring utility software; and instantaneous, total, and accumulated flow rates.