Published: March 06, 2017
GORHAM, ME | Montalvo, international specialists in web tension control, is announcing ODVA EtherNet/IP Communication for its series of Z4 Tension Controllers. Available as a communication option for new Z4 Tension Controllers, or as an upgrade for existing Z4s in the field, EtherNet/IP reportedly allows customers to interface easily with an existing HMI on the operator panel of the machine, allows management to record and store information about the condition of the machine, and reduces or eliminates the need for running cables/wires for installation.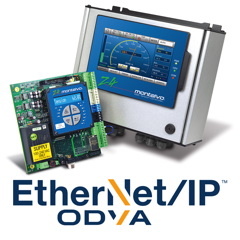 Montalvo sales manager Larry Jones says, "Manufacturing facilities are becoming increasingly connected, and by adding EtherNet/IP to our Z4 controllers, tension control can join that connection. Our customers desire more data collection and faster communications, networked with their existing systems; this will allow them to achieve that. Being able to offer this option not just with new controllers but being able to upgrade existing controllers currently out in the field is another key advantage with our Z4 EtherNet/IP."
Company says ODVA EtherNet/IP features include the following:
Faster communication between Z4s and other networked devices
Easily interfaces with existing HMI
Parameters made available for customized tracking and logging
Easily integrates into existing Ethernet system
Z4 Tension Controllers features include the following:
Load Cell Feedback version
Dancer Feedback version
Dancer Feedback with Load Cell Tension Indication version
Available for unwind, intermediate/nip, or rewind tension control
Wide range of available functions: Soft Start, Anti-Coast, Flying Splice, Web Break Detection, Inertia Compensation, Taper, Progressive Gain
Innovative and Exclusive Technology: Variable Wrap Angle & Range Expansion.
This email address is being protected from spambots. You need JavaScript enabled to view it.