Published: July 15, 2016
OKLAHOMA CITY, OK | Maxcess, a global supplier of products and services for web handling applications, today announced the release of the MAGPOWR Spyder Plus S1 Controller and Thin Load Cell Series. Both products are said to deliver high-end features at an affordable price point and compact format, providing customers with increasingly powerful tension control solutions.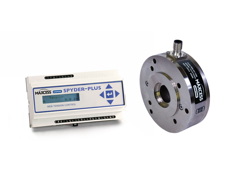 "The Spyder Plus S1 Controller adds an input for measuring diameter, allowing for precise taper tension, advanced stop and hold functions and gain compensation, features previously limited to high-end controllers," says Chris Harper, global product manager for MAGPOWR Tension Control.
An OEM-focused DIN-rail mounted controller, the Spyder Plus S1 joins the Spyder Plus, Versatec, and Cygnus Controllers in MAGPOWR's lineup.
"In addition to the Spyder Plus S1 release," says Harper, "we are also announcing the Thin Load Cell, a European-style load cell that allows for minimal machine space requirements. This new load cell is compatible with all MAGPOWR tension controllers and amplifiers."
This email address is being protected from spambots. You need JavaScript enabled to view it.