Published: May 02, 2016
ROCHESTER, NH | Dover Flexo Electronics (DFE) announces the model F3H heavy-duty flat-style transducer said to measure running web tension accurately in machines using live shaft idler rolls.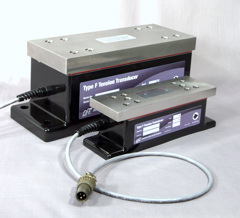 F transducers are designed to mount under the pillow block bearings at each end of the roll shaft. Company says this is an ideal heavy-duty tension control device for converters, paper processors, and composites manufacturers. The 'H' in F3H is for "horizontal," meaning the transducer measures tension applied more parallel than perpendicular to the top plate.
While the model F3H under-pillow-block style transducer has always been available to measure running tension in loads to 5,000 lbs, Dover Flexo Electronics now also offers the F3H transducer in the heavier load ratings of 7,500 and 10,000 lbs.
Reported features include the following:
Corrosion-resistant stainless steel and aluminum construction
Attached cable with amphenol connector
Tethered top plate safety feature that prevents separation from transducer in the unlikely event of beam breakage
Robust overload protection Load stops limit beam deflection to 125% of rated output.
Designed to meet CE mark requirements for Measurement & Control equipment: EN61326 for EMI.
Designed to meet the IP 65 standard for ingress protection.
Reported benefits include the following:
A low-maintenance design
Entire length of top plate is clear for pillow block installation.
Can be installed in any orientation
Mechanical stop provides protection from overloads
Splash resistant
Use with live-shaft or dead-shaft idler rolls
In other news from DFE, the company has received a patent on its Silencer friction pad, which when used with DFE pneumatic dual disk brakes, reportedly has proven to be 100% effective in eliminating unwanted pneumatic brake noise.
This email address is being protected from spambots. You need JavaScript enabled to view it.