Published: April 18, 2017
OKLAHOMA CITY, OK | Maxcess, a global supplier of products and services for web handling applications, will release the Fife D-MAX Enhanced Triple Drive Web Guide Controller at ICE USA 2017, Booth 301, April 25–27, Orlando, FL.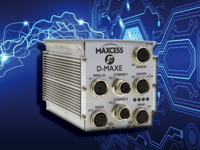 Company says that with the ability to control three web guides from a single unit, the D-MAX Enhanced positions itself as the most powerful controller in the industry.
"Our D-MAX line of web guide controllers has long been our flagship product…," says Shomari Head, global product manager for Fife Guiding Systems. "We have added to those powerful features a triple drive option."
The D-MAX Enhanced is described as a triple-drive OEM-friendly controller that builds on the power of the original D-MAX, a controller with features including "dual rail" power, single- or dual-drive options, and ISaGRAF-based state machine programmability. In addition, it offers power input reverse polarity protection, standard PTP-2 and PTP-1, Device Level Ring (DLR) connectivity, Add On Profile (AOP) for Rockwell Automation PACs, support for any language, a C-script programming language, and backward compatibility with existing D-MAX controllers.
This email address is being protected from spambots. You need JavaScript enabled to view it.