Published: February 25, 2016
PARSIPPANY, NJ | Catbridge Machinery has developed a turret cutoff and transfer system designed to align strands precisely for finished roll rewinding.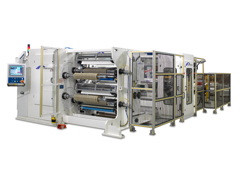 Available in the company's new 300-MC Series of turret slitter rewinders, this cutoff and transfer system addresses two problem areas: slit strand misalignment at the core and slit strand misalignment at the last wrap. Company says the 300-MC turrets maintain a very short distance between the web cut-off point and the rewind point, improving control and promoting proper alignment.
Company builds both a 324-MC single-turret winder and a 344-MC dual-turret winder. For versatility in handling materials, these turrets offer locked-core and differential center winding and can operate in touch or minimum gap mode.
Models also accommodate various rewind shaft and finished roll diameters. Available technologies range from automatic knife positioning and core loading to automatic label printing and application. The MC turrets are said to be best for high-volume, demanding applications that require quick and accurate transfers.
This email address is being protected from spambots. You need JavaScript enabled to view it.