Published: July 12, 2004, By pffc-online.com
PRESS RELEASE
WINSTON-SALEM, NC, USA—MAN Roland reports its customer Salem Printing Co. has added a second six-color Roland 300, equipped with a coater, to its "full-service" workflow. According to MAN, Salem's second 300 model "hit the ground running" last fall, "taking on a full workload of packaging, commercial, labeling, and point-of-sale work."
Says Philip Kelley, sr. VP at Salem, "Our new Roland 300 was almost fully utilized before we bought it. We expand our overtime and split shifts as much as possible to see if growth is sustained enough to commit to new investments; we don't buy and hope to fill it up. Presently, we are working on our next Roland."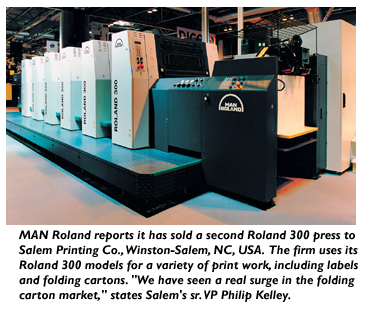 MAN Roland says both of Salem's Roland 300 presses are standard equipped with the 2/4 perfecting system. "The printer uses the feature on a variety of commercial and packaging work, but finds it particularly useful for tag and label work. The model's 'three-quarter size' 23 in. by 29 in. sheet is also a plus there," adds the OEM.
Explains Kelley, "Tags and labels are very efficient on the 23-in. by 29-in. format. Long runs may justify one-pass black over four-color process plus coating on C1S litho. The pressure-sensitive coated tag for kiss-cut labels has been good for us," Kelley adds. "We have printed display labels for many Fortune 500 companies."
In addition to label and tag work, the printing company also utilizes its Roland 300 models for folding carton work, which Kelley says has been on the rise for the Southeastern US-based converter. According to Kelley, Half of the throughput on the Roland 300 presses involves printing on paperboard, ranging in weight from 10 to 24 point.
"The 40-inch presses have a slightly higher productivity than our Roland 300, but at a much higher investment cost. We can be competitive at jobs up to about 800,000 press sheets. That's equivalent to 16,000,000 cartons or inserts, when we are running 20 out," Kelley reports.
More information about MAN Roland's product offerings for the converting industry is available at manroland.com.
---