Published: December 08, 2011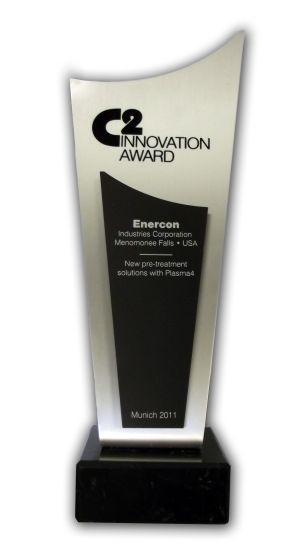 MENOMONEE FALLS, WI | Enercon Industries was presented with the C2 Innovation Award at ICE Europe in recognition of the development of Plasma4 plasma treatment. This pretreatment technology was acknowledged for breaking ground in productivity, ecology, and economy.
Reportedly, plasma offers converters a new surface treating solution providing high and long-lasting treatment, low gas consumption, and the ability to switch from a plasma to corona mode. Electrode breakage is eliminated while alleviating previous line speed and web width limitations, the company says, adding that automatic air gap adjustment and the ability to treat while virtually eliminating ozone are additional key benefits for converters.
A company spokesperson says, "Early adopters of Plasma4 are impressed with the foresight put into the design, which eliminates many of the industry's previous performance barriers."