Published: December 09, 2019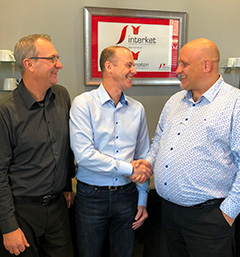 United Kingdom-based label manufacturer Interket UK purchased a new 8-color, fully automated MPS EFA 530 flexographic press.
Extending its capacity in label printing, Interket UK again chose MPS as supplier for their latest new flexographic press.
"In addition to expanding our flexo printing strength for on-roll self-adhesive labels, we are looking to broaden into new markets, and increasing our security product offering," said Tim Pattison, Interket UK sales and operations director. "Booklet multi-layer labels is a specialty we are seriously considering, which our new MPS press is perfectly capable of producing."
Long-term partnership
Positive experiences with its previously installed MPS printing machines reportedly led Interket UK to choose another MPS press.
"We are happy to have such a good relationship with MPS," said Vince Hughes, production and technical manager for Interket UK. "As our press supplier, there definitely is a long-term partnership strategy in place, and together with MPS we look forward to a successful future."
Interket UK's inhouse material
Interket distinguishes themselves by manufacturing their own self-adhesive laminate materials. "By coating our own substrates, we are able to supply specialist bespoke label applications," said Hughes.
The road to printing their own material hasn't always been easy. "When we first appraised narrow web machinery, MPS were the only press company that could successfully print and convert our own specialist bespoke materials, at a consistent speed with consistent conversion tolerances that are critical to the product and marketplaces we serve," added Hughes.
"At MPS, we challenge ourselves to think along with the customer and strive to offer more than just a high-quality printing press, said Tyrer. "We go beyond by providing advice in creating unique applications, and also offer latest innovations in connectivity and productivity along with data-driven service for further business improvement."