Published: October 05, 2017, By Debbie Donberg
GREEN BAY, WI | Paper Converting Machine Company (PCMC), part of Barry-Wehmiller and a global designer and manufacturer of in-line and CI presses, has announced that it will begin to offer the Fusion C flexographic press in a new 52-in. web width.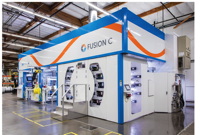 The Fusion C was unveiled at an open house at PCMC in August of 2016, and has only been offered in a 42-in. width up until this point.
"We listened to our customers, and they told us they had a real need for a wider web width in our Fusion C press," says Rodney Pennings, PCMC's printing, coating, and laminating sales director. "Being able to offer a new size of the Fusion C will be a tremendous tool for our customers, and we're excited that we can accommodate their changing needs."

The company says the Fusion C is a unique offering in the market because of its accessibility and ease of use, adding that it is loaded with fast makeready and waste-saving features and has a smaller footprint and fewer parts—saving customers both space and cost.
This email address is being protected from spambots. You need JavaScript enabled to view it.