Published: March 21, 2017
MINNEAPOLIS, MN | Eaglewood Technologies recently expanded its Minneapolis headquarters to include a demonstration center for Laserlox and Sanilox anilox roll cleaning systems.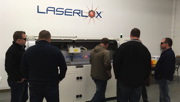 Company says these systems provide the most sustainable solution for automated anilox cleaning in all segments of flexographic printing and provide proven, tested results. Laserlox and Laserlox Flexi are the latest technology in anilox roll cleaning and are engineered for flexible packaging and label printers. Sanilox Anilox Cleaning Systems are said to be the global standard of reliable, environmentally safe anilox roll cleaning.
This email address is being protected from spambots. You need JavaScript enabled to view it.