Published: February 09, 2017
FIRENZE, ITALY | BOBST recently held a REVO Master Class Open House attended by 322 people. Printers and converters of flexible packaging, folding cartons, and labels made the journey to Firenze to gain in-depth knowledge of REVO technology, while also seeing it in action during actual printing demonstrations.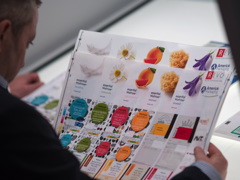 The event also marked the start of REVO Master Certification. By taking part in the Master Classes and demo tracks, participants in the event completed the first step and received the REVO Silver badge, the first of three certificates—Silver, Gold and Platinum—that will lead to REVO Master certification. The program will be made available next year by the REVO Team during dedicated events held at different locations worldwide.
REVO Digital Flexo workflow is a process that flows from prepress through to print production. It involves printing of four different jobs on film and carton substrates using 16 different Pantone colors in total, without changing the ink in the print units or the anilox rollers Job changes are performed automatically in one minute, with the new job in register after less than 20 m of waste, company says.
The REVO technology team comprises companies that have joined to push the flexo process beyond its current limitations: Americk Packaging, Apex International, AVT, BOBST, DuPont, Esko, Flint Group, X-Rite PANTONE, and UPM Raflatac. All were present at the event to share their know-how and the specifics of their contribution to the development of the process, both in the Master Classes and during on- to-one and small-group discussions with event participants.
Matteo Cardinotti, managing director of Bobst Firenze, led an open discussion about REVO profitability vs conventional printing, highlighting the elements that are instrumental in increasing the overall economic performance of the REVO production process and stressing the high level of profitability even for run production of 500 linear m, regardless of the application.
Other presentations covered Extended Color Gamut, the use of UV inks and their safety in flexible packaging applications for food, and the certified UV Track system with which BOBST narrow- and mid-web in-line flexo presses can be equipped. Demonstrations followed the workshop sessions, and attendees could visit the REVO Academy, experiencing the fully operational REVO plate manufacturing process.
Federico D'Annunzio, strategic products marketing director of BOBST Business Unit Web-fed, says, "REVO not only enables users to achieve high 90Lcm print quality, almost three-dimensional visual depth and contrast of the printed images, and to print consistently repeatable quality which can be digitally measured and validated by global digital quality standards, it also extends the quality performance to other parameters like consistency, repeatability, and predictability that are part of the production process needed to achieve an extraordinary level of overall operational efficiency."
Matteo Cardinotti, managing director of Bobst Firenze, sums up: "We actually sold or finalized the sales of presses equipped with the REVO Digital Flexo technology at the [Open House], which is a very telling comment on the success of this event."
This email address is being protected from spambots. You need JavaScript enabled to view it.