Published: October 04, 2016
ST. GALLEN, SWITZERLAND | Gallus showcased pre-series model of its latest generation of machines at Innovation Days, which took place September 20–22 at the company headquarters in St. Gallen. The Labelmaster label printing press platform for the label and packaging market features a special platform design and can be configured by customers to meet their own requirements.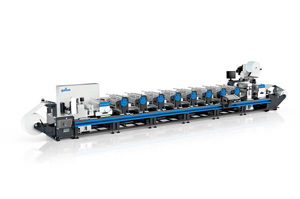 With open interfaces and Heidelberg platform development know-how for offset presses of Heidelberger Druckmaschinen, press builds on the design principle of Speedmaster offset printing presses from Heidelberg.
"Gallus and Heidelberg have harnessed a great many synergies in developing the new platform technology for the label market," says Stephan Plenz, member of the Heidelberg management board responsible for equipment. "A modular design and a reduction in complexity benefit both sets of customers, sheetfed and label market, and make them more competitive. The Labelmaster augments the existing digital label printing portfolio—also developed in collaboration with Heidelberg and based on the Gallus Labelfire 340—with a solution for high quality packaging and label applications.
Company will launch the first series machines with a web width of 440 mm, and other, wider web widths will follow as development of the machine system continues.
The new model is made up of modules that each comprise two printing units. These modules are available in three different variants: The basic version already covers all the required standards of the label printing; the "Plus" version allows greater flexibility; and the "Advanced" version leaves is said to be configurable for all needs in the level of automation. Company says this modularity is made possible by, among other things, a new locking system that makes it easy to change printing units accurately. Machine system supports a wide range of substrates, from paper and PE to PP and foil.
Press is said to be simple and quick to operate across all sectors. It can be controlled centrally via an HMI touch panel, although manual intervention is also supported. The lightweight aluminum printing cylinders that have been specially developed for this machine type can be changed in just a few quick steps.
Printing speeds to 200 mpm on the press reportedly ensure outstanding operational cost-efficiency with absolute register accuracy. A short web path of just 1.1 m from printing unit to printing unit is said to reduce waste, and an optimized ink duct for the chambered doctor blade needs just 250 g of ink and has been improved in ink spitting and foaming.
Newly designed flexographic printing unit is driven directly by two servo motors, and press can also be equipped with a newly developed screen printing unit.
Company reports register accuracy is excellent: Whether the press is running at a low set-up speed or being accelerated to a high maximum speed, the printed image is always in register, without the slightest correction necessary.
This email address is being protected from spambots. You need JavaScript enabled to view it.