Published: May 18, 2016
STEINHAGEN, GERMANY | Allstein will launch its next-generation flexo press at drupa 2016, May 31–June 10, in Düsseldorf, Germany, including the second-generation Hydro flexo press.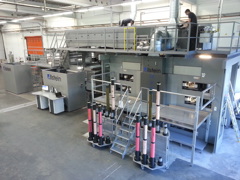 Kurt Flathmann, Allstein North America sales manager, says, "Visiting our booth will allow printers, in every package printing segment, to see for themselves how they can supercharge their production and deliver jobs never before possible at profitable production speeds."
The company also reports that, with continued success and support from the Nord-Rhein Westfalian state, it is planning the construction of new purpose-built facilities in Herford, Germany. The facilities will provide expanded capacity in a number of areas and allow for further growth in engineering, purchasing, administration, and service. A primary benefit of the transition is the greatly enlarged assembly area enabling the complete range of presses Allstein produces to be quickly assembled, reportedly enhancing delivery times and enabling extensive product testing.
Says Flathmann, "We are very excited about the market reaction to the many innovations our equipment provides, and the latest orders we have received further confirm market acceptance to the high level of equipment performance we have achieved. This expansion will allow us to handle the demands of our complete lines of equipment for all the markets we address including flexible packaging, paper, paperboard, and preprinted linerboard presses."
Allstein will remain in their present location until construction of the new facilities is complete and will make announcements about the change of address once they are moved in and operational.
This email address is being protected from spambots. You need JavaScript enabled to view it.