Published: October 08, 2013
MEX, SWITZERLAND | Bobst will exhibit a broad array of products at K'2013, October 16–23, in Düsseldorf, Germany.
For vacuum web coating and metallizing, exhibits will include the latest vacuum coating systems for clear barrier coating and pinhole detection in metallization for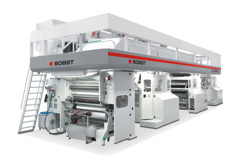 improving barrier properties and eliminating defects in packaging films and decorative applications. Information will also be available on the latest generation General K5000 metallizer, which will be launched at Bobst Manchester Open House October 15, 2013.
New solutions on display for CI flexo printing will include automatic devices and systems said to improve print quality, machine availability, and operator ergonomics at job setup and changeovers. Also presented will be details of the latest evolution of the F&K 20SIX platform of flexo printing solutions.
Display will include coating machines, extrusion coating and laminating lines, and duplex and triplex laminators. For gravure printing technology, company will show the new configuration of the Rotomec 4003MP press with shaftless cylinders.
This email address is being protected from spambots. You need JavaScript enabled to view it.