Published: April 23, 2013
NEU-ISENBURG, GERMANY | DuPont Packaging Graphics recently installed its first DuPont Cyrel DigiFlow 1000 ECLF exposure unit in Russia at FlexoCenter Partner, a well-known trade shop in Novosibirsk. The Cyrel DigiFlow system is the most recent addition to FlexoCenter Partner's equipment portfolio, which also includes the DuPont Cyrel Digital Imager (CDI) Spark 4835, Cyrel 1000 ECDLF, a processor Cyrel 1000 P, and DW 100.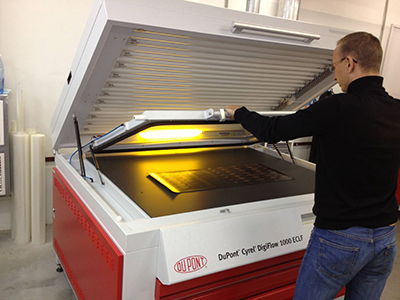 The first DuPont Cyrel DigiFlow exposure unit was recently installed at FlexoCenter Partner in Russia. FlexoCenter Partner is one of the most innovative trade shops in the Siberia region. It was opened in 2006 and has constantly upgraded its equipment portfolio for advanced flexographic printing.
"Highest possible quality in flexo is our mission," said Alexander Mushukov, CEO, FlexoCenter Partner. "As an innovative leader in Russia, we feel obliged to take advantage of the most current innovations in the market. DuPont Cyrel DigiFlow and its easy flat top dot feature for higher solid ink densities are a very good example. The installation went well, and getting familiar with this new equipment was easy. We are confident we will expand the number of customers due to the exceptional quality and reliability of our work with this new system!"
Cyrel DigiFlow is a relatively simple and inexpensive modification to the existing line of DuPont exposure units; it adds a chamber that allows the creation of a controlled atmosphere during the main exposure allowing one-to-one reproduction of image elements on the plate. This one-to-one reproduction is critical to optimizing the effects of solid screening patterns. The Cyrel DigiFlow exposure units were designed for use on an 'as-needed' basis, and can easily be switched off when the standard digital dot is the preferred result.
"DuPont Cyrel DigiFlow provides exposure in a controlled oxygen environment— the concept was proven successful several years ago with a product called DuPont Cyrel DigiCorr, targeted to the corrugated market," said Gerold Zadorov, Eastern Europe sales supervisor, DuPont Packaging Graphics. "After additional research and testing with clients, we anticipate this technology will increasingly be adopted in flexible packaging and also in the label market."