Published: March 27, 2013
Etipress was founded in October 1992 in Bogotá with the objective to offer high-value self-adhesive labels to the Colombian market, also taking advantage of the trend of big consumer companies with the highest volumes to replace wet glue labels with self-adhesive. At that time Etipress worked with letterpress printing, for its excellent quality and versatility because of the frequent modifications of the designs from customers. Successively, it enlarged its product portfolio, introducing screen printing, water-based flexo, and digital printing.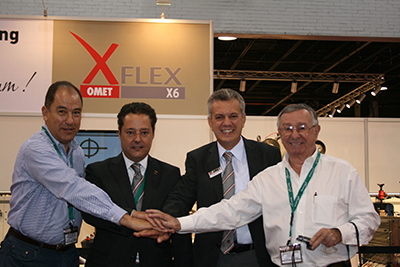 When flexo technology evolved, achieving excellent print quality, Etipress dabbled in UV flexo printing in 2007 through OMET and has since then purchased two more of their presses; the most recent acquisition is a XFlex X6 530 mm, which should be operational during the first quarter of 2013.
Currently, Etipress, with 106 employees, is a major actor in the supply of high-value labels in the Colombian market and countries in the region to which it exports. The primary market is the self-adhesive labels while five years it ventured into the shrink sleeves market. The main market segments served by Etipress are cosmetics, pharmaceuticals, household products, beverages, and lubricants. Similarly, it has ventured into the art of finishing, acquiring equipment for laser-cutting and rewinders with video cameras for 100% inspection.
The experience of more than five years with OMET has confirmed the reliability and confidence Etipress has in the brand. In recent years, the expansion of the printing capacity has been achieved through the purchase of OMET equipment, reaching at the same time a higher level of quality of its final products and a higher productivity for the organization. The support provided by the connection of machinery over the internet and remote diagnosis have shown how OMET prizes the early response to emergencies. Notably, the fact that OMET opened a branch in North America, has extended the call center availability to customers of the American continent.
"We saw the opportunity to expand our market share through a mid-web machine, so to optimize the printing of long runs and accept jobs of larger sleeves," informs Jorge Pabón. "Among the advantages of the XFlex X6 we can highlight their high speed. which is maintained especially in combination with die-cutting on difficult shapes. It is also very convenient, from the point of view of production, the quick job changeover, based on the use of light sleeves."
Undoubtedly, the relationship that has developed between the two organizations through the bond of customer/supplier, has been overcome with the acquisition of the third equipment, since OMET has become a strategic partner for the development and growth of Etipress.
This email address is being protected from spambots. You need JavaScript enabled to view it.