Published: September 22, 2017
EEDE, THE NETHERLANDS | Xeikon says Automated Digital Print Manufacturing will be one of its key themes at Labelexpo Europe 2017, September 25–28, at the Brussels Expo in Brussels, Belgium, where the company will feature its digital label printing capabilities in the new Automation Arena.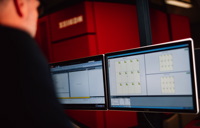 "Automation allows people to perform more efficiently and with more creativity," says Filip Weymans, VP marketing Xeikon. "We have all experienced the massive impact mobile communications have had on our personal lives, with our smartphones truly becoming personal assistants that can make us more efficient. A 'revolution' which will only become even more pervasive. Label converters will benefit from staying current with these automation trends to streamline manufacturing, reduce labor costs and cycle time, and adopt a near-lights-out production process. This reality is closer than you might think, with some converters already taking advantage of automation that frees employees to spend time on creating solutions for customers rather than spending time on repetitive, non-value-added tasks."
Xeikon will participate in the digital label production line with its flagship 3300 press with in-line laser die-cut unit, integrating solutions of key industry partners to demonstrate the potential of a fully streamlined, automated operation.
In addition to its participation in the Automation Arena, the company's dedication to bringing future-proof automation to the label production process will be showcased. The Solutions & Premium Services offering is said to be a unique and creative approach to total customer service, handled by a dedicated team that supports label converters in setting up, optimizing, and meeting all their label production needs—including prepress, workflow, substrates, printing, and finishing.
Weymans says, "Our goal is to help customers start, manage and optimize their printing and converting businesses, offering a different kind of support from installation, to getting machines up and running, through to optimizing existing operations. An important aspect is the aXelerate program, helping customers develop applications and build their business on Xeikon presses. Our customer service approach is application driven, and the market is reacting very positively to this all-encompassing approach."
While Xeikon naturally provides the digital printing equipment, front-end as well as finishing solutions, the company partners with a long list of industry suppliers to integrate complementary solutions that customers may require to achieve their full automation vision, as such rounding out a total solution.
At the heart of all the company's digital print offerings is the X-800 digital front-end. Intuitive, open standards-based, and totally modular, it reportedly is capable of dealing with a large number of file formats and tackling variable-data print jobs at rated engine speeds. Company says it is easy to integrate into any required configuration that allows the Solutions & Premium Services team to provide tailor-made solutions outside of the Aura network if required to ensure a fully customized solutions according to customer needs. "This means our solutions can fit the customer environment rather than requiring the customer to force-fit its operations to some pre-designed concept of automation," Weymans says.