Published: March 28, 2017
ST. LOUIS, MO | Mark Andy announces key changes to its organization in Europe in response to a period of sustained success and growth in that market. Tom Cavalco, who has served the company in a variety of roles over the past 15 years, has been promoted to managing director of Mark Andy Europe.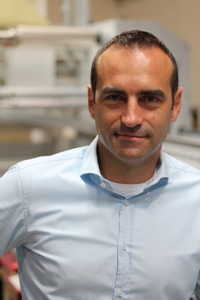 Mark Andy CEO Kevin Wilken says, "Tom has been instrumental to our rapid growth in European sales and market share in recent years, and this appointment reflects his deep understanding of our solutions and the markets in which they operate, as well as the close working relationship he has with our customers across the continent."
Cavalco, who the company says was a driving force in its successful relocation of European headquarters to Warsaw in 2015, will focus on the customer experience from demonstration through installation and service. He will be responsible for leading and growing the sales and distribution partner network and increasing the breadth of products and services to European customers, which has doubled in the past two years, despite unfavorable economic and competition dynamics in EU.
VP of international sales Mike Russell, who has been prominent in helping to develop the European market, will continue to support Cavalco in his new role. Says Russell, "We are very excited about the prospects for our business under Tom's leadership, and I know his promotion will be popular with our growing list of customers. I'm looking forward to supporting the new European organization as we push forward with a range of advanced products and services designed enhance our customers' business."
Narrow web converters interested in seeing the new European organization in action are invited to attend the upcoming Open House in Warsaw on April 5–7. The company will be demonstrating a full range of its flexo and digital hybrid printing solutions, along with the latest Rotoflex inspection/rewind machines. Click here for more information or to register for the event.
This email address is being protected from spambots. You need JavaScript enabled to view it.