Published: April 17, 2016
ALPHARETTA, GA | Neenah announces the expansion of its digital papers portfolio to include more than 300 of company's most popular colors, textures, finishes, and weights, and reportedly providing a wide range of versatile, high-performing paper choices for any digital print or packaging project. With the expansion comes the release of the newly updated, comprehensive Digital Papers swatch book.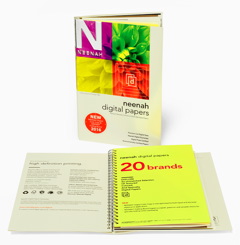 Greg Maze, senior brand manager, Neenah, says, "We've expanded our digital offering in direct response to the needs of today's market. With digital equipment manufacturers focusing on innovating their digital equipment, we're seeing increased customer demand for larger sheet sizes, heavier paper weights, more textures, and an increased desire for more paper colors ranging from bright whites and vibrant colors to unexpected dark blues and blacks.
Company says, because most digital printers can accept larger sheet sizes today, it has added expanded sizes 13 x 19 and 19 x 13 sheets throughout the line, and 20.75 x 29.5 and 29.5 x 20.75 for the growing HP Indigo 10000 user base.
Heavier weights across the line range from 24 Writing to 130 Double Thick Cover. Folding Board Digital, said to be a stylish, premium, and versatile choice for specialty, short-run folding carton packaging, is now available in 18 and 24 pt. This option is reported to be well suited for cosmetic and fragrance boxes, gift cards, hang tags, electronics, and confectionary packaging.
Digital Color Copy is now fully optimized for both liquid and dry toner digital print applications, reportedly making it a true cross-platform digital sheet.
Neenah Digital now provides printers and designers with the widest range of high-performing digital paper choices for any customized or short-run print collateral or packaging application.
22 pearlized, brights and colors from Crystal to Pulsar Pink and Epic Black
27 whites, naturals, and fibers from Avalanche White to Antique Gray
3 packaging papers from Bright White to Deep Black
3 ESTATE LABEL pressure-sensitive papers from Bright White to Cream
"Digital printing is no longer just about low-cost production. Improvements in productivity and reliability continue to make digital printing more cost-effective, and for specialty applications too. So it's about finding creative solutions for smaller, more exclusive projects," says Maze. "The new digital portfolio now includes 20 brands featuring the newly re-engineered Digital Color Copy and Neenah Folding Board."
This email address is being protected from spambots. You need JavaScript enabled to view it.