Published: February 29, 2016
BERGISCH GLADBACH, GERMANY | Zanders, a manufacturer of specialty papers and boards, has relaunched its Silver digital range. Silver digital is a two-side double-coated paper and board designed for toner-based digital printing and available in both gloss and matte finishes.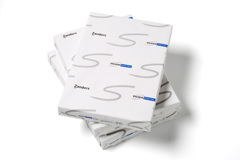 "With the boom in digital printing, for short runs, variable content, special promotions, and packaging, it was time for us to remind everyone about the benefits of Silver digital—one of the first ranges to be developed for digital print rather than adapted from an existing grade," says John Tucker, managing director of Zanders. "Together with Chromolux digital for the premium market, Zanders now offers a product suitable for every digital print application."
Company says Silver digital enables brilliant, clear-cut color reproduction on front and back and is available in grammages from 115–350 gsm. It is reported to have excellent toner adhesion, to be fast drying, and to be suitable for many applications, including packaging, cards, displays, and brochures. Also recommended for photo albums.
Product is HP Indigo certificated for HP Indigo liquid toner machines, as well as being approved for dry-toner presses from Konica Minolta, Xeikon, and Xerox.
The Silver digital range is made in Germany to the highest manufacturing standards, company reports, and uses only FSC certified (https://us.fsc.org/en-us) and sustainable pulp.
This email address is being protected from spambots. You need JavaScript enabled to view it.