Published: August 12, 2013
LONG BEACH, CA | Epson America Inc. today announced that label printer and converter, Luminer Converting Group, has purchased and seamlessly installed the Epson SurePress L-4033AW. Luminer purchased the SurePress based on quality, price point, color gamut, and Epson's service, and is using the inkjet digital label press to print high quality labels for diverse markets, including health and beauty, chemical and pharmaceutical.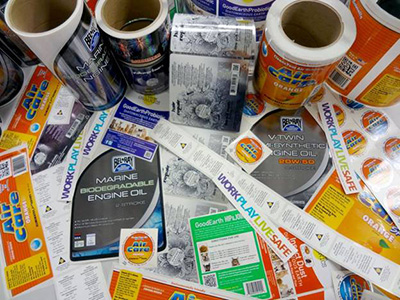 "We were looking for ways to alleviate the issues we were experiencing with our short run flexographic printing—it was a time-consuming process, not only when plate mounting and inking up the press, but most of all when color matching difficult or custom colors. We were frustrated with rejects and the reworks from jobs that didn't initially match the colors designers were requesting," said John Borrelli, partner and COO, Luminer Converting Group Inc. "We did our homework at Labelexpo with a team of seven employees from several different departments within our organization. We looked into all available solutions, and after seeing its capabilities, and consulting with other customers and our in-house team, the Epson SurePress made it to the top of our list, in part due to the color gamut, quality, the option of white ink, and the price point in which we were able to acquire the equipment."
Designed for prime label converters and commercial printers, the Epson SurePress L-4033AW is an easy to operate seven-color inkjet digital label press with white ink that reportedly makes high quality, short-run label printing easier and more efficient, even on clear and metallic substrates. Said to Deliver exceptional print quality and accurate color reproduction, as well as innovative printing features, the L-4033AW is a cost-effective and reliable solution that allows printers to expand their service offerings and improve profitability.
"Transferring to the Epson SurePress has allowed us to work more efficiently and we immediately saw time saving benefits compared to flexographic printing," shared Borrelli. "The training and service Epson provides, especially during initial setup, is integral to success—they were responsive and helpful no matter our questions. Additionally, having the ability to print on a variety of substrates, including metallic, film, paper, or gloss, along with the wide range of colors and white ink, allows us to exactly match logos with demanding graphics and complex vignettes."
Additional Epson SurePress L-4033AW features:
MicroPiezo inkjet technology with variable-size droplets as small as three picoliters provides ultra-precise drop formation and placement to deliver smooth gradations, remarkable color quality, and sharp detail for easy bar code readability, plus crisp small type and line work
Seven-color (cyan, magenta, yellow, black, orange , green, and white), durable, water-based, resin-coated pigment inks provide superior adhesion and reproduce a wide range of colors
Prints on a range of standard, off-the-shelf materials including gloss, semi-gloss, matte, film, and clear, and metallic substrates
Supports rolls from 3.15 to 13-in. wide up to 0.013-in. (0.32 mm) thick
Time-consuming, short-run jobs can be transferred to SurePress for more flexibility and timely results at speeds up to 16 fpm
No chemicals or plates are required in the pre-press process and less substrate and ink is used in make-ready for short-run jobs
"The Epson SurePress L-4033AW inkjet label press delivers high print quality and a wider color gamut when compared to other digital presses, and allows print shops to more cost effectively produce difficult short-run, high quality labels with accurate spot color matching," said Mark Elsbernd, North America region sales manager, Epson America. "The Epson SurePress supports the many diverse label market requirements, making it an ideal fit for Luminer Converting Group, and we are proud to deliver on a promise of reliability and support that allows companies like Luminer to grow."