Published: January 31, 2002, By Teresa Koltzenburg, Senior Editor
New equipment, including DuPont's Cyrel Fast technology and a Barco digital imager, have moved Atlantic Envelope's Exton plant into the realm of extraordinary.
The proliferation of digital technology has increased the solution confusion. At least that's what PFFC's editors concluded last year as we prepared for our magazine's redesign.
While many converting-process problems have been solved by employing a particular digital technology or a "digital solution," we recognized many more problems are solved by the industry's evolving digital technology.
We used to offer quarterly installments of "Digital Solutions." Now, with digital technology truly an integrated part of our industry, we present "The Digital Evolution," or TDE. TDE news, products, and feature stories will be part of PFFC's content all year long.
On that note, we're proud to present the story of Atlantic Envelope's converting facility in Exton, PA. With its DuPont Cyrel Fast® plate-processing equipment and Barco digital-imaging technology joining a wide array of brand new equipment, the facility provides an outstanding example of "The Digital Evolution" in practice.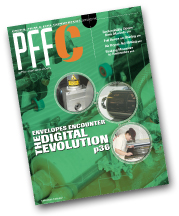 The Extraordinary AECO
"We were a traditional manufacturing company about three years ago," says Kerry Reedy, VP of sales and marketing based at Atlantic Envelope's Atlanta, GA, headquarters. "But we've become a technology leader. We've purchased new envelope-folding equipment and a new generation of computerized equipment. Today, more than half of everything we make comes off this equipment."
It's clear Atlantic Envelope strives to push itself and the market to extraordinary levels with new equipment and technology, especially when it comes to printing. "More and more, our market niche will be printing," says Exton's VP/GM Jim Brown. "We consider ourselves to be high quality printers that convert envelopes — as opposed to envelope manufacturers that occasionally print."
But the technology isn't the only thing beyond ordinary at Atlantic Envelope. There's the two-and-a-half year old, 127,000-sq-ft "state-of-the-art" Exton facility; the company's long and distinguished history; and then there are the people — about 1,400 employed by the seven-plant envelope manufacturer.
At the helm of the 109-year-old company is president Randy Zook, whose unassuming conversation and background (he started as a sales guy, "from the street," he says) may reveal why Atlantic Envelope offers such an extraordinary mix of cutting-edge technology and homespun customer service.
"I started with this company back in 1970," Zook reports, "and every time I thought about leaving — and, frankly, that wasn't very often — something interesting popped up. Luckily, this is a terrific group of people. That's really the heart and soul of this business. It's a pretty extraordinary environment. There are very little, if any, corporate politics in our workplace. People take care of the customer first, and everything else kind of falls into place after that."
Also extraordinary is Exton's equipment line-up. According to Brown, the facility houses and utilizes several W + D envelope machines; a three-year-old Man Roland, six-color sheet-fed/web litho press (which is equipped with Man Roland's Job Pilot module — see sidebar); a DuPont Cyrel Fast plate processor; the Barco CDI digital imager; a brand new Maxson sheeter; several ink jet printers; die-cutters made by Schoen and PHP; and a new Automatän 6500GL jogger/aerator. (Exton buys paper from International Paper, Willamette, Finch, and Glatfelter; inks are water-based and are supplied by Environmental Inks.)
A new, eight-color Cerutti central impression, gearless flexo press "hit Exton's door" in early January, says Brown, and will be installed over the next few months. And, at presstime, the company was looking at investing in a BESTColor quality control system, which will be retrofitted to the new Cerutti press.
Extraordinarily Complex
This propensity for cutting-edge technology is awfully good for AECO's suppliers, but it's even better for its customers — whose production requests aren't always easy to fill.
"We service the direct-mail envelope market, predominantly the financial direct-mail market," says Bob Muma, Exton's VP of sales. "About 96 to 97 percent of what we make are direct mail envelope products. It's a direction this facility went after as a niche, starting earlier with insurance. As the clients' volume and value-added requirements evolved, we moved more into credit card/financial direct mail."
But production at Exton goes beyond ordinary mail envelopes, Brown points out. "We run lots of window film. In fact, we run very few BREs [business reply envelopes]. Many of our envelopes have windows front and back. It's a complex product mix, and in terms of difficulty, the degree of [it] in this plant is probably higher than in any other in the Atlantic Envelope division." (Atlantic Envelope is part of the National Service Industries [NSI] corporation, Atlanta, GA.) The Exton facility buys window film from Multi-Plastics.
The Direct-Mail Evolution
Those ingeniously devised and executed envelopes that enclosed your latest 1.9% APR credit card offer may have been made in Atlantic's Exton plant. But getting into this complicated, envelope-making niche teeters into the digital evolution experienced by direct-mail companies and designers.
"First of all," explains Muma, "a lot of this has been customer-driven. The market is demanding new and different products to enhance their responses. And, as they are developing databases, they are going toward micro-segmentations on their lists. They want the recipient to be able to identify with the outer envelope, in hopes of getting better response."
Direct mailers also are driven by the phenomenon that is always abuzz in this industry: cycle-time reduction. Says Muma, "They absolutely want to reduce their cycle time. [We estimate] it costs from $300,000 to $500,000 per day as a name gets older on a mailing list. If these mailings can go out one to two days faster — and, at the same time, various versions can be mailed — we help their bottom line."
No Ordinary Integration Either
Integrating your schedule into your customers' schedules, as all printers know, isn't for the unorganized. And if your cycle time lags a little (not to mention if it's interrupted with a full-on shutdown), organization can go right out the window. Until a couple of years ago, that's where a lot of the facility's business was heading, says manufacturing manager Russ Stewart — before Atlantic Envelope's Exton operation decided to invest with DuPont.
"When I first took this position, the largest cause of downtime here was plates — both the quality and the inability to turn them around. Eight out of ten times when I would come in the morning, we were down because of plates. At that time, we were pursuing enhanced flexo, but we didn't have the capabilities to really do the job we needed to do in graphics because of equipment problems. And I'm going to tell you, the Cyrel Fast unit has been a major contributor to us getting to where we are today."
Once the Exton plant solved its plate-processing problems, the company (still in the midst of its flexo-printing quest) took the CTP (computer-to-plate) step by purchasing Barco's CDI Compact Twinbeam digital flexo imager for digital platemaking. In addition, Atlantic invested in Barco's PackEdge, Plato, and FlexRip products for Exton, and for its Houston, TX, plant, Atlantic purchased PackEdge and Plato software.
"With the CDI," says Randy McHenry, Exton's operations manager, "I was impressed with the YAG laser and the fact it provides longer focal depth. It seems to be suited specifically for flexo plate material, as opposed to an offset-type laser being modified to fit flexo."
Another Barco selling point McHenry touts is the product training offered: "Barco does a week-long — more if needed — FIQ [Flexo Implementation of Quality] process. They worked with us on press characterizations and profiles to improve our ability to match proof to press. And not only did they go through the process with us, but they helped teach us the process, so once they left, we could go through the same steps on other new equipment as it's needed."
Sounds like Atlantic Envelope's Exton facility isn't done upgrading or done moving up either. "We're absolutely booming," says Brown. "We've grown exponentially every year — almost 30 percent last year. And we're going to have phenomenal growth this year, too." Now that's evolution!
CONVERTER INFO
Atlantic Envelope Co.
Headquarters: 1420 Peachtree St., N.E.
Atlanta, GA, 30309-3002
404/853.6700; This email address is being protected from spambots. You need JavaScript enabled to view it.; atlanticenvelope.com
---
A Man Roland Ride
"Our press doesn't take a back seat to any printer in the country," says Atlantic Envelope's Jim Brown (VP/GM, Exton, PA). Brown is referring to the company's three-year-old Man Roland 700 litho roll-/web-fed press. "It's state of the art, with the latest color-control console; a scanning spectrophotometer; and closed loop adjustment on the fountains. The JobPilot system allows you to store the information and retrieve it for the next makeready and to have your fountains pre-set," he adds.
This past December I took a "test drive" on a Man Roland as a group of editors were treated to the front-seat view of the press manufacturer's technology. Press members, attending a special "Test Drive" day session, were able to put our hands on and operate (with a lot of help, of course) two Man Roland presses and the company's PECOM CIM (computer-integrated manufacturing) technology, which includes the JobPilot module.
During the Test Drive, Man Roland CEO Yves Rogivue predicted Brown's answer to me before I asked Brown what it was about Man Roland's technology that made it worthy of Atlantic's investment: "Printers are looking for efficient technology to increase profitability; off-press makereadies… accomplish that goal in a significant way."
With that sort of supplier intuition and understanding of customer needs, it's easy to see why Alantic chose Man Roland — as well as why both companies continue to drive the digital evolution.
---
SUPPLIER INFO
Barco Graphics, Vandalia, OH; 937/454-1721; barco.com/graphics
DuPont Imaging Technologies, Wilmington, DE; 302/999-2065; dupont.com
Cerutti Giovanni Officine Meccaniche, Monferrato, Italy; +39 0 142 459300; cerutti.com
Winkler + Dunnebier Aktiengesellschaft (W + D), Overland Pk., KS; 913/492-9880; wdmachinery.com
Man Roland Inc., Westmont, IL; 630/920-2000; manroland.com
Automatän, Plover, WI; 715/341-6501; automatan.com
Hans Schoen GmbH, Hattigen, Germany; +49 02324 96 990; schoen-pressen.de
PHP—F.L. Smithe Machine Co. Inc., Duncansville, PA; 814/695-5521; flsmithe.com
Maxson Automatic Machinery, Westerly, RI; 401/596-0162; maxsonautomatic.com
International Paper, Purchase, NY; 914/397-1500; internationalpaper.com
Environmental Inks & Coatings Corp., Morganton, NC; 800/ENVINKS (828/433-1922); envinks.com
Glatfelter, York, PA; 717/225-4711; glatfelter.com
Willamette Industries Inc., Portland, OR; 503/226-5524; wii.com
Finch Pruyn & Co., Glen Falls, NY; 800/833-9983; finchpaper.com
Multi-Plastics Inc., Lewis Center, OH; 800/848-6982; multi-plastics.com
BestColor USA Inc., West Chester, OH; 513/942-7111; bestcolor.com
---