Published: April 30, 2021
Paper Converting Machine Company (PCMC), part of Barry-Wehmiller, has announced the installation of a new Fusion C printing press at flexible packaging supplier Yellowstone Plastics (affiliated with Volm Companies), located in South Idaho Falls, Idaho. The 42-inch, 10-color Fusion C began production in February.
"We're extremely excited to have the Fusion C installed and in production," said Daniel Mueller, president, Volm Companies. "We have confidence that this press will serve us well for many years to come and help us continue to meet our customers' needs."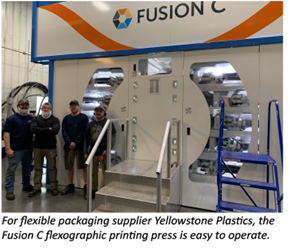 Since the installation, Yellowstone Plastics has reportedly increased the quality and quantity of its product offerings, thanks to innovative Fusion C features including Flextreme drying, 100 percent web inspection, the Intelliprint auto-impression setting and SteadyPrint.
"We are very excited about the results we are getting out of this press," said Lou Figueria, director of printing and graphics operations, Yellowstone Plastics. "We are running a mixture of short runs and long runs, at 1,000 to 1,200 feet per minute, and the press adjusts very nicely between the two. It is very easy to operate, and its features—such as SteadyPrint and the touchscreen HMI—have been beneficial to our printing and our operators."
PCMC will host a Grow More make-ready reduction kaizen event with Yellowstone Plastics this summer. PCMC leaders will utilize their lean experience and people-centric leadership training to help improve the company's efficiency, communication and employee engagement. In the past, customers have reportedly experienced a 50 percent reduction in time and waste after these events.
For more information, visit https://www.pcmc.com.