Published: September 07, 2023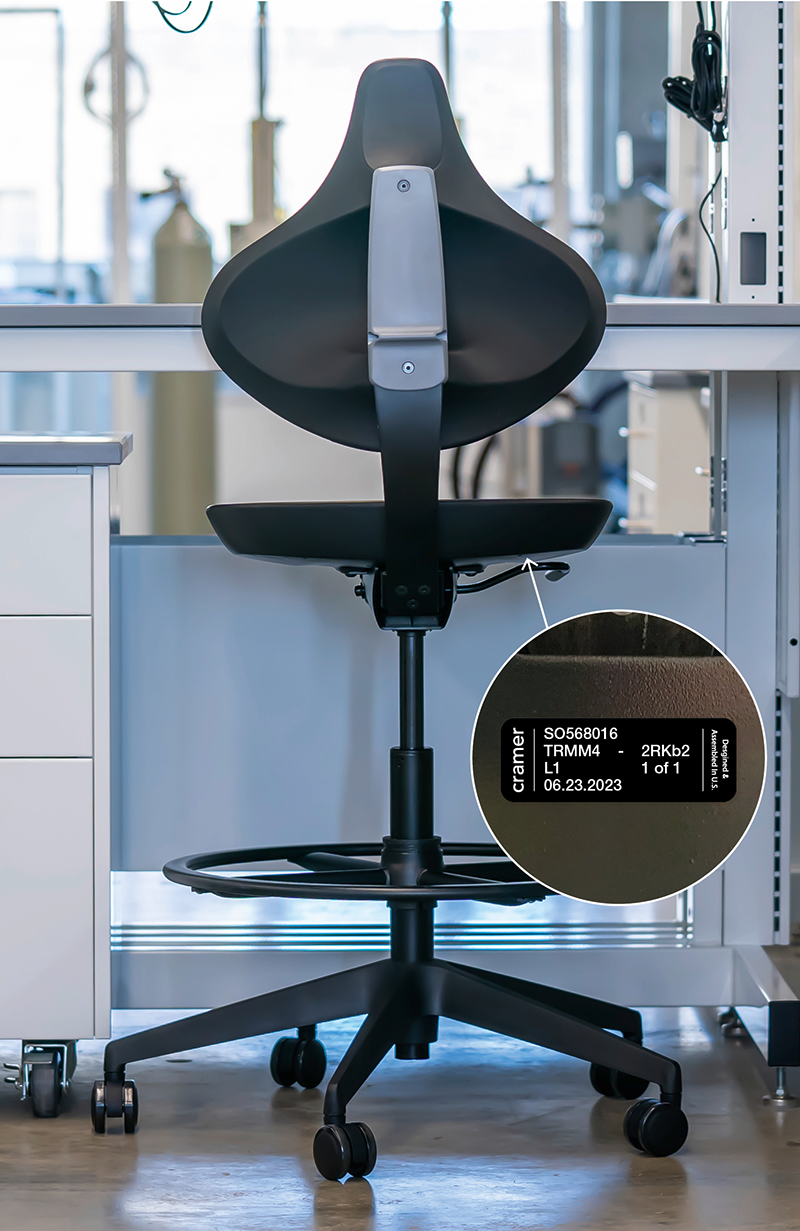 Schreiner ProTech, a Germany-based global leader in developing and manufacturing innovative functional labels with value-added benefits for the automotive and engineering-based industries, is providing marking solutions for laboratory chairs manufactured by Kansas City-based Cramer Inc. The solution, a Schreiner ProTech product called PolyScript, overcomes a variety of common marking and identification challenges faced by products used in laboratory settings.
Laboratory equipment, including chairs, must be robust, disinfectable, gapless, and antistatic. Cramer, which has specialized in special-purpose seating for nearly 90 years, had been consistently encountering problems caused by the labels on its high-tech Helix® portfolio of lab chairs. Often, the labels either would fail to adhere properly – sometimes coming off as early as the assembly process – or vital printed information would be rendered illegible by the aggressive chemical cleaning agents common to lab settings. Without precise, reliable information pertaining to specific production batches, Cramer found it difficult to provide adequate technical after-sales support – a particularly concerning issue considering the company's 15-year product warranties.
Last year, Cramer and its long-time contract manufacturer, Michigan-based Nuvar Inc., adopted Schreiner ProTech's Color Laser Films (CLFs), which reliably adhered to the chair frames and resisted the healthcare sector's strict cleaning procedures. Unfortunately, the corresponding laser printer series was unexpectedly discontinued.
Pivoting, Schreiner ProTech suggested thermal transfer ribbon (TTR) printing, since the company had successfully employed similar solutions in the rugged industrial sectors it historically serves. In addition to providing exemplary ahdesion and withstanding harsh cleaning agents, the TTR-printed PolyScript labels could be printed with white lettering on a black background – a design perk for Cramer's predominantly black chairs.
"We almost exclusively manufacture black chairs, and don't want a large, white sticker to take center stage on the back of the chair," said Kyle Waggoner, Design Director for Cramer Inc. "The new label is coordinated in every detail and blends well with our holistic design initiatives for creating innovative and high-end laboratory seating furniture."
Doug Stubbs, Sales Account Manager, stated, "When the printer family for the initial material was suddenly discontinued, Cramer considered dropping the project entirely. Thankfully the Schreiner portfolio of rugged label materials is very broad, and we were able to meet the required performance and aesthetic goals with a product that works with standard, readily-available TTR printers."
For more information, visit www.schreiner-protech.com