Published: February 16, 2023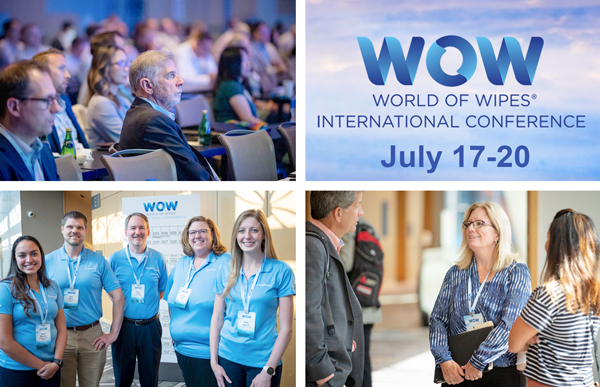 450+ wipes professionals will convene and connect in Atlanta in July
INDA announced that registration and tabletop exhibit reservations are open for the 17th edition of the World of Wipes® (WOW) International Conference. WOW 2023 will take place July 17-20 at the Atlanta Marriott Marquis in Atlanta, Georgia.
WOW 2023 will feature the latest wipes intelligence on the Energy Crisis, Coping with Inflation, Supply Chain Challenges from material availability to import pressures, Market Trends, Plastics Issues such as single use plastics, renegade plastics and microplastics, Sustainability and Traceability from sourcing to end-of-life, Private Label vs. Brand, and Flushability Developments including legislative and labeling efforts, collection studies and regulatory topics.
The event includes 11-plus hours of networking with industry influencers, thought leaders and C-suite executives. In addition to two nights of tabletop displays and receptions on July 18 and 19, a highlight of WOW 2023 will be Lightning Talks. Tabletop exhibitors will give "supersized elevator speeches" for five minutes. Participants will have the opportunity to follow up with tabletop exhibitors during the reception.
WOW 2023 begins with the WIPES Academy, July 17-18, led by Heidi Beatty, Chief Executive Officer, and her team of wipes professionals from Crown Abbey LLC. Participants will gain insights from product concept to commercialization. Participants will also develop insights about materials, design, manufacturing, packaging and cost implications for industrial, institutional and consumer wipes applications.
Nominations are being accepted for the World of Wipes Innovation Award®. Eligible product categories include raw materials, roll goods, converting, packaging, active ingredients, binders, additives and end-use wipes. The deadline for submissions is Friday, May 5. Finalists will make their presentations to hundreds of decision-makers Tuesday, July 18, with the Award being presented Thursday morning, July 20.
INDA thanks Cotton Incorporated and Rockline Industries for being WOW 2023 sponsors. To register, reserve a tabletop display or sponsorships, visit WOW 2023. For more information, contact the registrar at This email address is being protected from spambots. You need JavaScript enabled to view it. or 1 (919) 459-3724.