Published: May 03, 2016
NORTH KINGSTOWN, RI | Toray Plastics (America) and Packaging Products Corporation (PPC) have collaborated to create high-barrier PVdC-free packaging for Utz Quality Foods. The new packaging lamination combines Toray's Torayfan CBS2 BOPP film, a clear, PVdC-free flat sheet designed for use as an inside sealant web, with a co-extruded BOPP print web.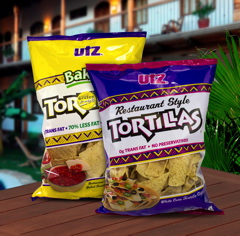 Utz, which often has to ship products over long distances and has stringent barrier requirements, first used the Torayfan CBS2 BOPP film for its 3-oz party mix, reportedly creating a colorful, eye-catching pouch with a clear window that allows customers to see the product. Today Utz uses the material for the packaging of more than two dozen products, including its tortilla chips, party mix, corn chips, Puff N' Corn, and similar salty snacks in the portfolio that don't require a metallized lamination.
Will Woodford, VP of sales administration for PPC, explains that food manufacturers for years wished for an alternative to transparent barrier film containing PVdC. "Though PVdC-coated OPP film keeps bakery and snack foods fresh and gives consumers a window to the product inside the package, the film has several drawbacks. It yellows as it ages, becoming brittle and prone to flex cracking. It has experienced price hikes that have made end-user costs surge, and it has required many flexographic printer/converters to use EMA additives or other supplemental materials to promote bond adhesion for laminating to PVdC-coated OPP. Besides those concerns, reports about PVdC-coated films' potential negative long-term effect on the environment have made some manufacturers uneasy."
Amanda Whaley, product manager, Torayfan Division, Toray Plastics (America), says Toray recognized end-users' and converters' concerns and developed CBS2 BOPP film with barrier properties achieved by means of company's resin technology and a proprietary, non-PVdC barrier layer. The non-barrier side of CBS2 film is designed for heat sealability.
PPC was receptive when Toray approached the company because it had been interested in replacing or finding an alternative to PVdC-coated laminations. Together, Toray and PPC undertook extensive trial work comparing the performance of CBS2 with that of traditional PVdC-coated BOPP film. Reportedly, the results showed that CBS2 offered excellent moisture and oxygen barrier and had superior lamination bond, without the need for priming, additives, or any changes to PPC's lamination process. Toray says the film also provided a wide heat-seal range, excellent oil resistance, puncture resistance and stiffness, yield advantage, and a longer storage life.
PPC presented the new option and test data to Utz, who successfully tested the material on its own machinery. Price increases in PVdC-coated films made CBS2 film even more attractive. "The first application performed beautifully," Woodford says, "and Utz continues to specify the CBS2 lamination. CBS2 BOPP film has given us and our customers a new option for a clear, thin OPP with enhanced oxygen and moisture barrier, which is critical to good sourcing practices."
This email address is being protected from spambots. You need JavaScript enabled to view it.
This email address is being protected from spambots. You need JavaScript enabled to view it.