Published: December 31, 2004, By Dr. William Llewellyn, AWA Alexander Watson Assoc.
---
Part 1 | Part 2 | Part 3 | Part 4 | Part 5 | Part 6
---
Asia=Opportunity
Overall market growth in Asia is stronger than in North America and Europe, but demand varies country by country, reflecting the prevailing economic conditions locally and also reflecting the cultural and social differences between countries in the region. Highest growth rates currently are seen in China (18%–20% per annum) and in South East Asia, most notably Thailand (12%–15%), and in India (20%). Australia and New Zealand's annual growth rate of 3% is in line with European norms. Lowest regional growth is in Japan at 0%–1%.
Taken as a whole, the Asian market represents a significant 23% of the total worldwide demand for labels of all types. Of that total, self-adhesive labels take the major share—46.5%. The average annual growth rate, at a forecast 8%–10%, conceals wide country-by-country variations.
Glue-applied labels are the second most used labeling technology in Asia with 36.4% of the market and an estimated 4%–4.5% annual growth.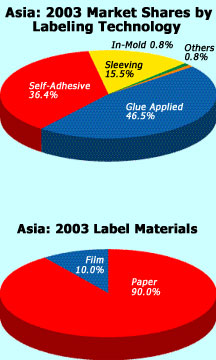 Sleeving technologies represent 15.5% of the market today and continue to grow at 5% per annum. Certainly this is affected positively by the growth in PET bottles for beers and mineral waters in the region, especially in China.
In-mold labeling is interesting: With less than 1% of the market currently, it is nonetheless growing at an estimated 15% year over year.
Material Choice
Paper is the label substrate of choice in Asia with 90% of the market. Film stocks account for just 10% of all label face materials in Asia but are exhibiting a greater growth rate because of their higher overall performance, their predominant use in sleeving and in-mold technologies, and their above-market growth in the leading self-adhesive technology. In both papers and films, there is a drive toward lower weights and thinner face stocks.
Paper sources in Asia are a mix of "local" production with more than 100 mills supplying a wide range of coated and uncoated papers—primarily for self-adhesive labels—and "imports" of medium to high wet strength coated papers for glue-applied labels for beverages. However, we expect to see further development of locally produced non-wet-strength paper grades, followed by wet-strength qualities for wet glue labeling. Asia is self-sufficient in sources of high quality films for all label applications.
The Converter Base
The position of label printers in the value chain is becoming increasingly vulnerable due to the high number of companies involved and the lack of consolidation—a reflection of the position in both North America and Europe.
While there is clear movement towards narrow web print and flexography in particular in the key Chinese market, the main installed base of presses in Asia remains in sheet-fed lithography and letterpress. This is a direct expression of the relative lack of technical education and support available in many parts of the region. Press manufacturers, self-adhesive laminators, and ink manufacturers are addressing this issue, so we can expect to see accelerating change in the choice of label production technologies.
Market Trends
While it is at a much earlier stage in its development than many of the world's major label markets, Asia nevertheless represents relatively developed consumer economies, and its product manufacturers and retailers are focused on brand differentiation, particularly through packaging and, of course, labels. As elsewhere, this is encouraging brand owners to use a broad palette of decorating technologies, rather than declaring allegiance to just one.
While the so-called "labeling" technologies continue to dominate, there is increasing competition from direct-printed packaging such as cans and flexible pouches in the beverage sector.
Asia is as focused on innovation as the rest of the world, and functional labeling is attracting considerable interest—particularly "intelligent" labeling features—as demography and lifestyles change in the region. Increasingly, the influence of major global brand owners and retailers is being felt in the region, with the label industry's value chain supporting their efforts with improved material availability, technical support, and infrastructure investments.
The opportunities for American and European label industry players to develop strategic new business in this dynamic market area certainly are not to be ignored; and as growth slows in the developed world economies, Asia has to be the next real business development opportunity.
---
---
Dr. William Llewellyn is a senior consultant for AWA Alexander Watson Assoc. and an independent international business and technical consultant. He has a doctorate in chemical engineering and more than ten years in senior management positions with Van Leer Metallized Products, UK. Full details of "Labeling Markets: Asian Sourcebook 2004," newly published by AWA Alexander Watson Assoc., are available via the Web site at awa-bv.com.
---
---
Part 1 | Part 2 | Part 3 | Part 4 | Part 5 | Part 6
---