Published: June 06, 2023
Company also showcases results of thorough polyimide testing against harsh PCB cleaning chemicals.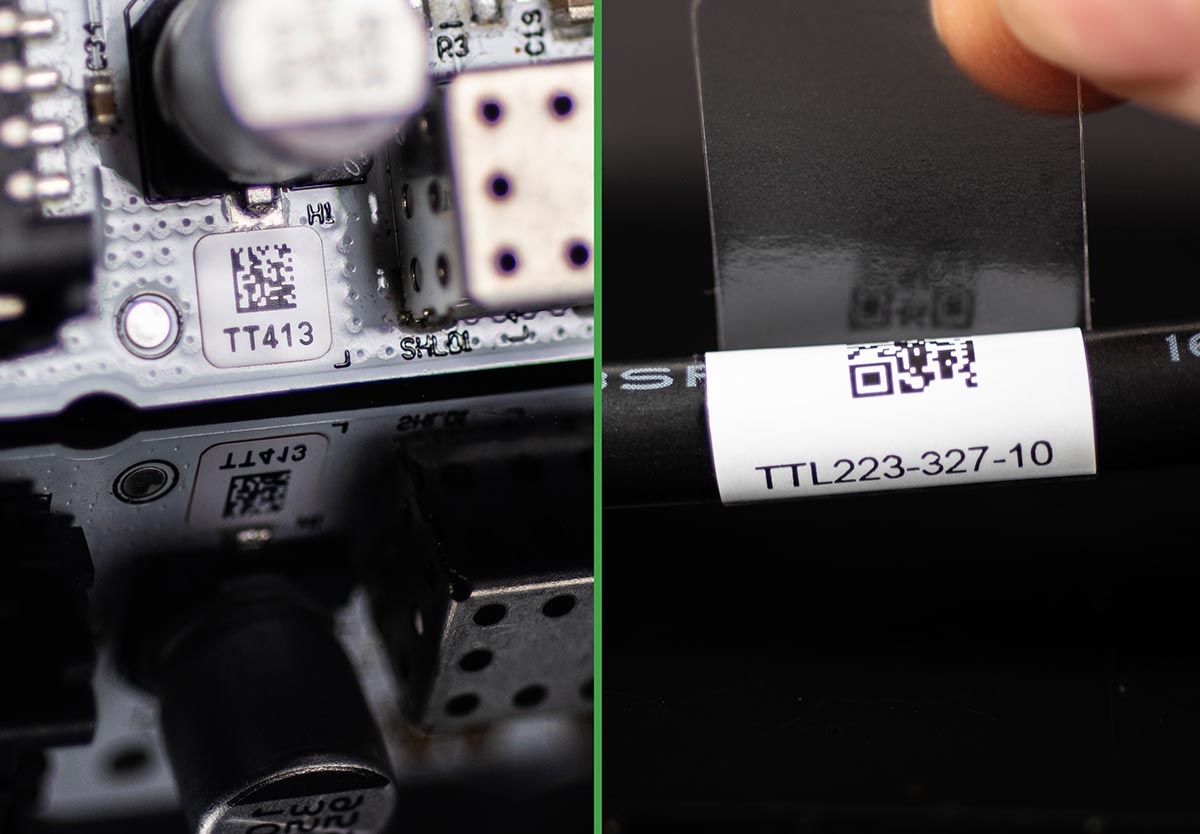 IDENTCO – a manufacturer of high-performance labeling solutions for the power equipment, electronics, transportation, and general industrial sector – recently highlighted new labeling solutions, proven polyimide ruggedness and enhancements to its automation capabilities at three electronics sectors.
For starters, IDENTCO exhibited its brand new series of robust labels for printed circuit board (PCB) applications, featuring a substrate developed exclusively for IDENTCO by a prominent, global industry materials and coating supplier. Providing vital identification and traceability for high-leverage PCB components, the new TT413 labeling series easily withstands prolonged, repeated exposure to the chemicals and high temperatures typical to post-production washing processes. The portfolio is designed for on-demand thermal transfer printing of variable information – a plus for electronics companies incorporating serialization and/or anti-counterfeiting coding into their production practices.
In fact, an array of IDENTCO's labeling solutions are proven to stand up against repeated exposure to the aggressive cleaning chemicals common in PCB manufacturing. At each show, IDENTCO touted its close collaboration with leading cleaning solutions providers. Each company recently completed the latest in an ongoing series of tests ensuring the durability and legibility of polyimides utilized in various IDENTCO products.
IDENTCO also highlighted its portfolio of wire harness label products for a wide range of applications, including electronics and automative components manufacturing. Among other marking solutions, the company's TTL200 self-laminating labels offer the most opaque white print-on area on the market, and are available for an extensive array of wire and harness shapes and sizes. The TTL200 series also provides the flexibility of printer agnosticism, as the labels are compatible with all major printer types and brands.
Automation was another key theme for IDENTCO. The company strives to help simplify the automation process for PCB manufacturers through labeling solutions offering plug-and-play functionality with most SMT equipment brands. At the shows, IDENTCO stressed the importance of seamlessness in automation, and highlighted its comprehensives labels + equipment packages designed for hassle-free integration. Moving forward, IDENTCO is primed to introduce a new automated solution in the wire marking category in the coming weeks.
"Everything we do is designed to make labeling solutions the last thing PCB manufacturers need to worry about," said Brad Zechman, who became IDENTCO's CEO in April. "From marking solutions that withstand high temperatures and repeated exposure to harsh cleaning agents, to simplified labeling to key components like wires and harnesses, to brand-agnostic automation and line integration – IDENTCO provides our customers with user-friendly solutions for complex production environments."
For more information, visit www.identco.com.