Published: February 16, 2021
BOBST has announced its vision to shape the future of the packaging world and built a strategy based on four pillars: connectivity, digitalization, automation and sustainability.
Underpinning all of the individual solutions is BOBST Connect, an open platform that orchestrates the entire packaging production process and integrates all key components to make packaging production more effective.
"BOBST Connect is a one-stop platform that gives printers, converters and tool manufacturers access to our ecosystem of digital solutions utilizing state of the art Internet of Things (IoT) technology," said Serge Morisod, head of IoT Lab, BOBST. "It enables efficient data flow between physical equipment and digital solutions to help rapid, transparent communication throughout the supply chain and optimizing the entire production workflow. Perhaps the most exciting thing is that BOBST Connect is a permanently evolving platform that will deliver more and more as it grows."
BOBST Connect covers five domains: pre-press, production, optimization, maintenance and market. There are several solutions already available across the domains and many more in the pipeline.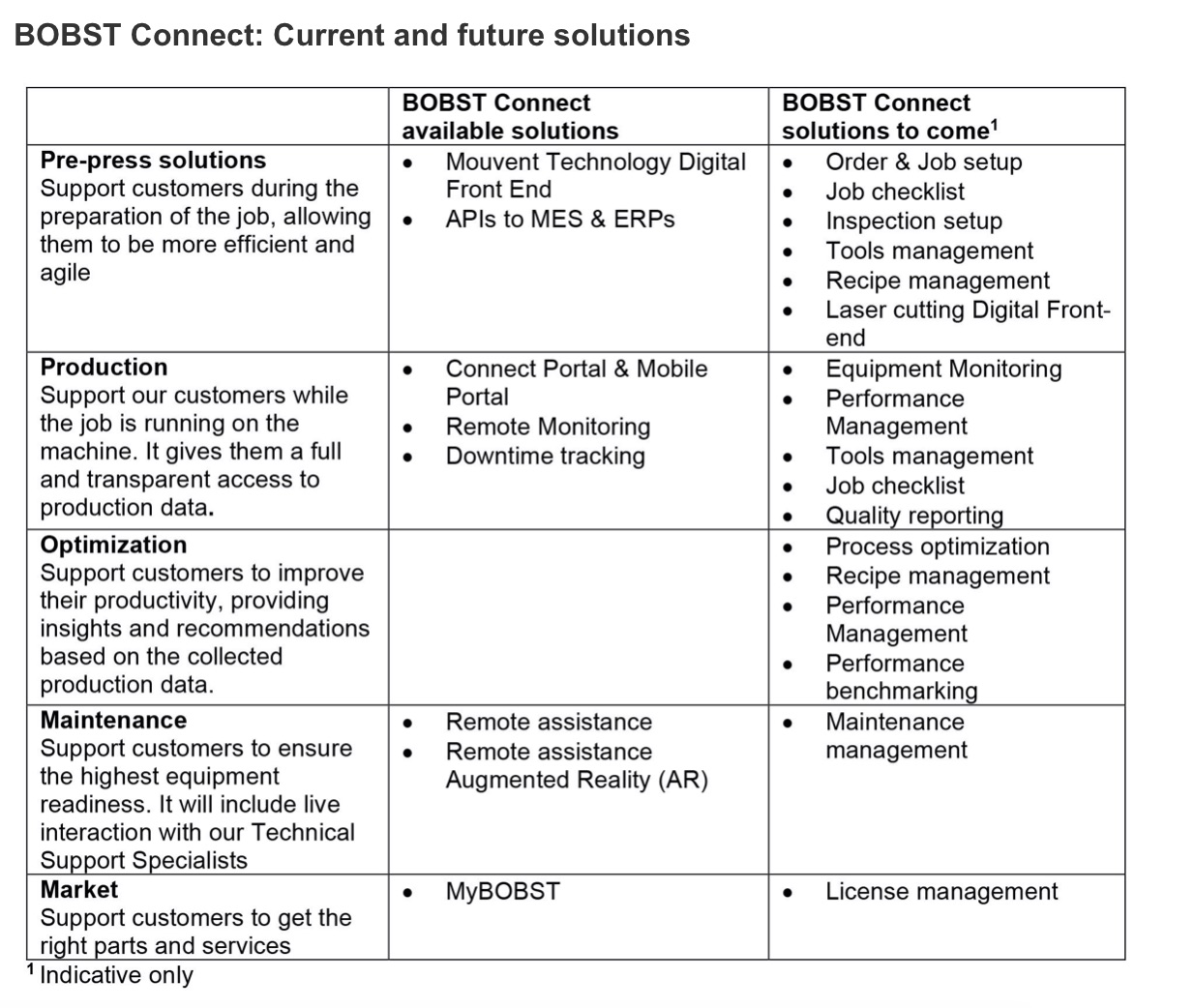 Some of the current BOBST Connect solutions include: remote monitoring, a comprehensive production reporting tool designed to quickly access detailed machine production, process and technical data; remote assistance with Augmented Reality (AR), the first ever remote assistance service in the packaging industry to incorporate a smart headset with AR glasses; and MyBOBST, a personal portal for parts, order tracking, technical information, customer support, special offers and real-time machine data.
Some of the exciting solutions in the pipeline for 2021 include the introduction of recipe management in the pre-press stage for certain machines, and the introduction of equipment monitoring capabilities, performance management capabilities and quality control at the production stage. BOBST also plans to introduce the second generation of its popular remote assistance AR service in 2021.
For more information, visit https://bobst.prezly.com.