Published: December 01, 2006, By Edward Boyle, Contributing Editor
Box Making
Located in the countryside of southeastern Pennsylvania, 125 miles from Philadelphia and 60 miles from Washington, DC, Hanover Packaging may seem to be in the middle of nowhere. But the third-generation carton plant/trade finisher is actually at the forefront of the converting industry.

Originally named Reliable Box, the company was founded in 1925 by Abraham Chatzkel, grandfather of current company president Larry Chatzkel. Its product mix has grown to become about 50% carton board and 50% plastic containers. Says Chatzkel, "That's part of what separates us from our competition."

Chatzkel points out a particular skin care product carton as a prime example of the value they create for their customers. "The customer wanted the consumer to experience the product without opening the carton," says Chatzkel. "So we designed a solution that not only lets the consumer see the product but actually feel the product without compromising the content inside."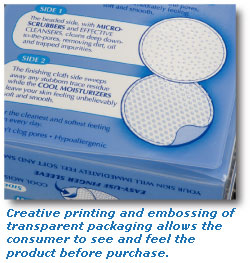 The artwork on the reusable polyethylene terephthalate (PET) carton allows the consumer to see the actual product while also providing the product's value message and instructions on its use. However, perhaps the carton's most interesting feature is the embossed areas that mimic the texture of the product.

"We're using the senses of sight and touch to invite the consumer to handle and experience the product before they buy," says Chatzkel. "Our customers don't come to us because they're looking for something standard. They're looking for something unique that will help drive the consumer's decision at the point of sale."

Don Lynch, Hanover's director of operations, agrees and adds that the major differentiator is not the mix but the creativity and versatility the company brings to the packaging it manufactures.
A Unique Combination For Turnkey Solutions
From its 65,000-sq-ft manufacturing facility and 50,000-sq-ft fulfillment center, Hanover provides high quality, innovative turnkey packaging solutions to many of the country's leading cosmetics, health and beauty, station-ery, and confectionary companies.

Hanover houses the capabilities to produce folding carton, rigid box, and transparent packaging under one roof. "Having all three media types in one facility gives our designers the ability to easily work between material types to provide our customers with a variety of options and price points," says Chatzkel. "That's very important to the way our business operates. We never present a single solution to a customer. Having the ability to efficiently work with all three material types, or a combination of types, allows us to cost-effectively offer a wider range of solutions and find the one that perfectly matches our customers' needs."

The value that Hanover creates for its customers doesn't stop with its creative designs and use of materials. Providing a total solution to its customers' needs has formed strong, long-lasting relationships between Hanover and its customers.

"Many of our customers look to us as their turnkey packaging resource, and that's what we strive to be," says Chatzkel. "We get involved at the inception of the product, and we become an integral part of the customer's team from concept through design, manufacturing—both theirs and ours—and on through the retail delivery stage."

"Jobs like this are more of the standard instead of the exception," adds Lynch, referring again to the skin care carton. "It's not unusual to find our design or manufacturing personnel on the customer's production floor developing an understanding of their entire process. The production line for this product is fully automated, so we had to understand the filling process as well as the marketing intentions."

In addition to the esthetic requirements for the carton, the design had to allow for the automatic squaring of the body and gluing of the bottom flaps and lid sides. The lid also would be closed and locked automatically during filling but had to allow easy and repeated opening and closing as the consumer used the product.
Keeping in Touch with Technology
The versatility of the company's equipment is a key component in Hanover's efficiency and success. "It's important that our equipment has the flexibility to run a wide range of materials," says Lynch. "With our product mix, it wouldn't be efficient otherwise. A machine may be running a PET or PLA [polylactic acid] carton in the morning. Then, after lunch, they may be onto a paperboard job. Our customers and our product mix demand flexibility. Our equipment allows us to very quickly switch from one job or material to the next and conserve floor space in the process."

To maintain its high standards for quality and on-time delivery, Hanover places a great importance on keeping pace with the latest technology.

"The newest machine designs are typically more efficient," says Lynch. "They run faster, have shorter makeready times, are more energy efficient, and are capable of higher quality. These are all important to our profitability, winning and keeping customers, and the overall sustainability of our business."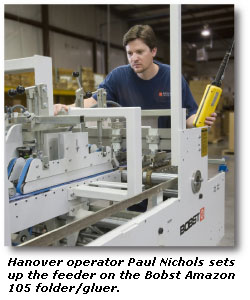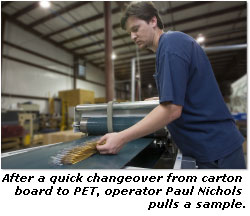 As an example, Hanover recently installed a new Bobst SPeria 106-E Autoplaten die-cutter and Amazon 105 folder/gluer. The SPeria 106-E gives Hanover the ability to die-cut and emboss materials from 0.004-in. paper to microflute corrugated board with calipers to 0.157 in. and a variety of plastic films.

According to Lynch, the Quick-Lock tooling system on the SPeria has reduced changeover times significantly and simplified the process. Hanover's Bobst Amazon 105 reportedly is one of the first of this model folder/gluer to be installed in North America.
"We're increasing our capacity and capabilities with these two machines," says Chatzkel. "They let us take advantage of the latest innovations in die-cutting and folding and lighten the production load on our existing machines. This has given us an even greater responsiveness to our customers' time requirements. We decided on the SPeria and Amazon from Bobst Group for a number of reasons. Versatility, reliability, and speed were some of our main requirements. Quick changeover times and the ability to trade devices and tooling between the new machines and our existing machines were important too, as was the service, technical support, and training necessary to keep operation at maximum productivity."

Hanover's commitment to staying in the lead in equipment isn't limited to folding cartons. In the past 18 months, it has installed two Emmeci lines, which allow for the fully automatic manufacture of set boxes.

Adds Chatzkel, "To better serve our customers that have contract packaging requirements, we will be accepting delivery of a Shanklin Omni S form/fill/seal wrapper from Sealed Air Corp., which allows shrinkwrapping at speeds up to 100 packages per minute.

"It is fully servo driven and stores jobs in memory for automatic recall and setup of repeat jobs. It is the first such machine to be installed in our area of the country and will save our customers money due to high-speed operation, quick set-up time, and its ability to run lighter-weight films."
Staying on the Leading Edge
Everyone knows that to remain successful you have to stay current with technology.

"The leading edge of technology from Bobst is more than just having the latest machinery," says Chatzkel. "Certainly that's a major part of the equation, but to truly remain on the leading edge means you have to listen to your customers and stay up to date with the trends, technology, and innovations of their business as well as yours. We continually fine-tune our customer service programs. We have established excellent training programs to keep our team members current with the latest technology and innovations. Our goal is to help them grow on a professional as well as a personal basis. This is a benefit to everyone—Hanover, our customers, and the employees. "Whether it's customer service, manufacturing, shipping, sales, or management, the way business operates is continually changing. The only way to stay on the leading edge is to make sure we keep changing with it."

And the 81-year-old company continues to do just that.
Editor's Note: For more on Larry Chatzkel and Hanover Packaging, see our "Experience Speaks" column in the November issue.
---
---
PLA–A Green Alternative
Many of Hanover Packaging's customers have been looking for environmentally "green" alternatives to petroleum-based plastic packaging. This prompted the company to begin research and experimentation with a material called PLA or polylactic acid from NatureWorks. Unlike petroleum-based products, PLA is a renewable and environmentally friendly product made from corn.

PLA is said to have the same end-user characteristics as its petrol-based counterparts. It can be used for everything from shrinkwrapping over CD cases to, in heavier grades, full folding carton packaging, blow molded bottles, and fabrics. Those are just some of the reasons that Hanover is such a huge proponent—and user—of the innovative material.

"Being a relatively new product, PLA posed a number of engineering challenges," says Larry Chatzkel, president. "However, our designers have been able to work through these challenges to produce durable, temperature-resistant cartons using PLA."

PLA's bright future may be somewhat dimmed by the recent demand for corn to produce ethanol as a stand-alone fuel source or replacement for MTBE (methyl tert-butyl ether) in the production of gasoline. Many corn-based products, including starches for paperboard production, are facing supply challenges as the petroleum industry moves toward the use of this renewable resource. Environmental groups objecting to the use of genetically engineered crops also may influence the future growth of products based on this natural resource.
SUPPLIER INFO:
NatureWorks LLC/Cargill—PFFC 308. natureworksllc.com
---
---
CONVERTER INFO:
Hanover Packaging
8 Barnart Dr.
Hanover, PA 17331
717/633-7652; hanoverpackaging.com

SUPPLIER INFO:
Bobst Group—PFFC 305. bobstgroup.com
Emmeci—PFFC-ASAP 306. emmeci.it
Sealed Air Corp.—PFFC-ASAP 307. sealedair.com
---