Published: September 30, 2005, By Edited by Edward Boyle, Contributing Editor
Digital Imaging
More than 70% of buying decisions are made at the point of purchase, so it's no surprise POP displays have become one of the most powerful tools available to advertising and marketing agencies for consumer goods.
The rewards are enormous for successful POP displays, which is why demand for them continues to grow at 25%/yr, requiring breakthrough production technologies. Part of the appeal of POP displays is that they are ephemeral and designed for a relatively short life. Campaigns are short, sharp, and focused for maximum impact. However, to achieve a cost-effective supply chain—especially when unit numbers are low—production and distribution have to be coordinated carefully.
Today digital technology delivers the versatility and speed required to serve the new applications for corrugated and other POP display printed materials.
Prepress House Reinvents Itself
VT Graphics, Yeadon, PA (near Philadelphia), exemplifies the new thinking that digital technology has brought to the sometimes-staid world of corrugated converting.
Founded in 1966 as a platemaking trade shop for corrugated converters, VT Graphics seized the digital opportunity in 2004 with the purchase of a Scitex Vision CORjet press, an Esko-Graphics Kongsberg DCM digital die-cutter, and a 60-in. GBC laminator. The capabilities of this combination led to the formation of Digital Impact, a new VT Graphics operation created to produce POP displays for the promotional packaging market.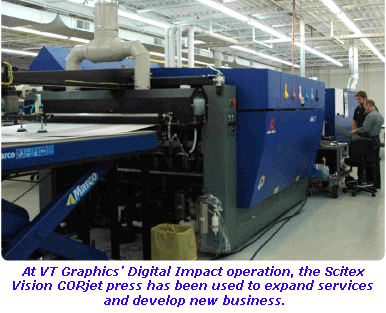 The six-color Scitex Vision CORjet Premium inkjet press provides high quality print using water-based pigmented inks that have been certified for use on food packaging. The CORjet Premium incorporates a print controller and RIP, a fully automated loader, the press and drying unit, and an automated unloader.
At the heart of the Scitex Vision CORjet Premium is the Aprion inkjet technology that uses specially designed heads, arranged in an array to ensure fast, even coverage on a wide variety of substrates. Using patented drop-on-demand piezo-electric technology, each head has 512 nozzles firing 30,000 perfectly formed drops per second, the company reports.
According to Bob Mormile, president of VT Graphics, "The new equipment makes high quality, short runs cost effective," adding that the goal is to focus on production runs of 150–500 units. "This is an area where there is a lot of interest and potential."
Digital Impact's business, as delivered by VT Graphics, is focused on corrugated board, mostly D- and E-flute, though the subsidiary will handle other substrates on request. "As a maker of flexographic plates, we were looking for ways to expand our business without getting into competition with our customers, the corrugated converters," Mormile says. "The Scitex Vision CORjet has enabled us to do that. Short-run printing isn't something that flexographic printers want to do, and samplemaking and trial versions are traditionally time-consuming and very expensive.
"Our strategy has been to provide a service to our existing customers that they can sell to their customers," notes Mormile. "Samples and trial versions are cheaper when printed digitally, and once a design is approved, we have a good shot at getting the platemaking business for the long runs."
One-Stop Shop
The business of VT Graphics is not just about samples and trials; it's about developing that 500–1,500-unit market and creating more opportunities for the end-user.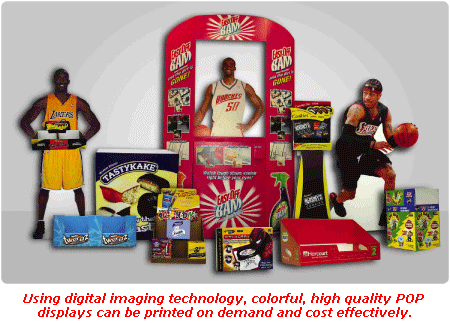 Using the Scitex Vision CORjet's variable data printing capability, POP displays can be tailored for specific retailers, stores, and neighborhoods. Unique copies can be run seamlessly one after the other or as part of longer runs of identical units.
Capable of imaging as many as 29 sheets/hr, 63 x 126 in., 10 mm thick, at resolutions to 600 dpi, the CORjet Premium opens new market opportunities for corrugated production. In addition to corrugated board, the CORjet Premium can print on other substrates, such as foam board, styrene, or fluted polypropylene.
"It's an exciting venture," says Mormile, adding that Digital Impact also is building its direct sales business. "We have something new to sell, and so do our customers. Offering the fast turnarounds that the Scitex Vision CORjet can deliver, combined with the digital die-cutting and laminating facilities, means that we're a one-stop shop that customers can buy into direct or through the converters."
---
---
CONVERTER INFO:
Digital Impact , a div. of VT Graphics
550 Penn St.
Yeadon, PA 19050
610/259-4090; digitalimpac.com
SUPPLIER INFO:
Scitex Vision—scitexvision.com
Esko-Graphics—esko-graphics.com
GBC/General Binding Corp.—gbc.com/gbc
---