Published: May 31, 2005, By Nsenga Thompson, Associate Editor
Board Report
Strolling down today's grocery and discount department store aisles, consumers can't help but notice the increasing amount of flexible packaging on store shelves, but despite the popularity of flex-pack, paperboard still holds an important place in the packaging market.
Paperboard packaging provides advantages in the distribution, marketing, protection, and preservation of thousands of consumer goods, reports the Paperboard Packaging Council (PPC), Alexandria, VA. These apparent advantages may be key to the positive sales projections forecast for the paperboard industry this year.
State of the Industry
The paper industry as a whole had a good year in 2004, reports Merrill Lynch, as profits improved due to healthy demand trends and higher prices—partly offset by sharp increases in costs of energy, chemicals, and fiber.
According to Jerome Van de Water, president of PPC, "The state of the paperboard folding carton industry is good. Industry growth was strong in 2004, with dollar sales up 7.6 percent. Volume was up 2.3 percent, with the average value per ton up 5.2 percent."
The near-term outlook is positive, with dollar sales projected up 5.9% in 2005, he says, adding, "The increased sales projected for 2005 are driven by continued strong growth in value per ton."
The strongest growth areas for paperboard converters are pharmaceuticals, frozen foods, and retail carryout, with the lowest markets for folding cartons being soap, tobacco, and paper products. Consequently, for specific grades, solid bleached sulphate (used in pharmaceuticals and frozen foods) and unbleached kraft (for the beverage market) have seen the strongest growth.
The Freedonia Group, a Cleveland, OH-based market research firm, reports in its 2005 Paper Packaging study that rigid paper packaging demand will outpace flexible paper packaging. Above-average gains are anticipated for sleeves, protective packaging, tubs and cups, and blister cards. While plastic alternatives do compete with these products, the presence of key uses where paperboard remains favored (e.g., small multi-packs, package shipping, and ice cream tubs) has insulated these segments somewhat from inroads by plastic, Freedonia reports.
The foodservice market will register the fastest gains among major paperboard packaging markets. Continued growth will be stimulated by rising disposable personal income levels, leading to healthy expansion for consumer food expenditure, especially for food consumed away from home. Food applications also are reported to remain the leading market for paperboard packaging; however, growth will continue to be threatened by competition from plastic packaging, with saturated slower-growing uses also holding down advances, according to Freedonia.
Demand trends for paper and forest products remained remarkably healthy the first two months of the fourth quarter for 2004, reports Merrill Lynch, with sequential demand higher for every major paper product grade (except newsprint). The trends were even more impressive for the first 11 months of 2004, with demand up strongly for every key grade except newsprint. Merrill Lynch attributes this to an improved economy and better advertising trends boosting paper and paperboard demand, which, in turn, boosted pulp shipments.
Corrugated by the Numbers
According to the Fibre Box Assn., Rolling Meadows, IL, corrugated shipments totaled more than 390.5 billion sq ft in 2004 (see Figure 1). In an average week, shipments were up 3.25%. (In 2003, there was one more shipping day than in 2004.)
Figure 1
Fibre Box Industry Shipments
(billions of sq. ft.)
2002
2003
2004
Total
379.449
379.908
390.528
Corrugated
377.475
378.070
388.620
Solid Fibre
1.974
1.838
388.620
Percent Change
0.0
+0.1
+2.8
Source: Fibre Box Assn. Annual Report
The value of corrugated shipments increased to $23.2 billion, a 4.1% increase from 2003. Of industry corrugated shipments, 83% came from corrugator plants and 17% came from sheet plants. Shipments to end-use customers by companies vertically integrated with containerboard mills accounted for 76% of total shipments, while shipments by independent companies totaled 24%.
Over the past two years, paperboard folding carton volume has increased 1.0%. It was off 1.0% in 2003 but up 2.3% in 2004, reports Van de Water. "Historically, carton industry volume growth averaged at or above 2.0 percent per year. We believe this slower growth is mainly due to slower growth of US-based output by many key customer-industries—the result of migration of production off-shore." (See Figure 2).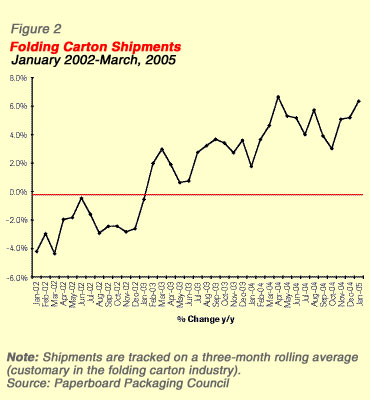 Loss of markets to off-shore manufacturing remains one of the biggest concerns of paperboard packaging converters. Folding carton shipments in 2003 were $8.5 billion and estimated at $9.1 billion in 2004 (see Figure 3).
Figure 3
Folding Carton Market
(in $millions)
2000
2001
2002
2003r
2004e
Shipment
$8,628
$8,634
$8,420
$8,529
$9,137
Imports
385
429
482
528
544
Exports
286
364
301
284
319
Consumption
8,727
8,700
8,600
8,773
9,361
Import Penetration
4.4%
4.9%
5.6%
6.0%
5.8%
Export as a % of shipments
3.3%
4.2%
3.6%
3.3%
3.5%
Note: r=revised, e=estimate
Source: Paperboard Packaging Council—Trends 2004 Report
The Bottom Line
Merrill Lynch projects 2005 to be "the year for paper," due to continued paper capacity discipline coupled with further demand growth.
Specific to the paperboard industry, the PPC is estimating 2005 folding carton sales for the industry at more than $9.5 billion, an increase of 4.5% over 2004 sales (see Figure 4).
Figure 4
Folding Carton Shipments
2002
2003r
2004e
2005f
Thousand Tons
5,412
5,357
5,468
5,414
Percent
-0.6%
-1.0%
2/1%>/td>
-1.0%
Million Dollars
8,420
8,529
9,136
9,553
Percentage
-2.5%
-1.3%
7.1%
4.5%
Note: r=revised, e=estimate, f=forecast
Source: Paperboard Packaging Council—Trends 2004 Report
Flexible packaging may be growing in popularity, but with an improving US economy and steady growth in volume and sales, paperboard packaging should continue to have a prominent presence for years to come.
---
---
Quick Facts on Corrugated Boxes
In 2004, 1,417 industry plants were in operation: 591 corrugator plants and 826 sheet plants. This is a decrease of ten plants from 2003.
The average corrugator plant manufactured 736 million sq ft of combined board in 2004 compared to 714 million sq ft in 2003.
Overall, productivity in 2004 was 2,740 sq ft per production man-hour. The number of employees in the industry production: 83,966.
Source: Fibre Box Assn. Annual Report
---
---
Top 10 Folding Carton Companies 2005
1. Graphic Packaging Corp. (Riverwood)
2. MeadWestvaco Corp.
3. Smurfit-Stone Container Corp.
4. Rock-Tenn Co.
5. International Paper (Shorewood)
6. Field Container Co.
7. Gulf States Paper Co.
8. Caraustar
9. Simkins Industries
10. Specialized Packaging Group
Industry Stats:
Estimated 2005 Folding Carton sales for the industry = $9.7 billion
"Top 10" = 68% of the industry's forecasted folding carton sales.
"Top 5" = 53% of the industry's forecasted folding carton sales.
Approximately 300 companies with 480 plants (primary business is folding cartons).
Source: Paperboard Packaging Council. Rankings are based on publicly available information including annual reports, SEC documents, and articles. PPC does not guarantee 100% accuracy. The ranking is based only on folding carton sales performance. Estimated 2005 and 2004 data was used.
---