Published: April 30, 2013
DEERFIELD, IL | Pregis Corp. introduces Form-It, a new customizable method to cushion and protect a wide variety of product types via self-adhesive polyethylene foam strips.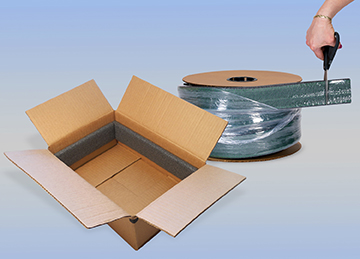 Users can quickly cut the desired length from the roll, peel off the release liner to expose the adhesive, and affix into position—typically on the inside of a corrugated container or carton, which is used to transport the product. Form-It foam strips are ideal for blocking and bracing or to create custom dividers, U-channels, L-shapes, pockets, etc.
The ability to customize Form-It allows packers to trim to necessary lengths to protect varied products. In some instances, spot protection is desirable and in other instances, more substantial usage may be required. The affordable, customization option helps decrease fabrication and design costs.
Form-It foam strips are available in three thicknesses (3/8-, 1/2- and 3/4-in.) to meet light, medium, and heavy-duty protective packaging requirements. The 2.3-in. tall material is delivered on 40-, 50- and 55-ft reels (depending on thickness) and offers excellent load bearing, insulation, and impact absorption characteristics. Additionally, rolls take up less inventory space than custom fabrications.
Ideal applications include appliances, furniture and fixtures, case goods, electronics, household items, industrial components, and lighting. Also well-suited for small-to-medium sized manufacturers and e-commerce operations, retail stores (shipping, moving, industrial, and office supplies), import redistribution, automotive shops and home workshops.
This email address is being protected from spambots. You need JavaScript enabled to view it.